Francis Smith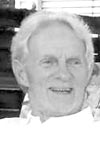 AUBURN — Francis "Smitty" Smith passed away peacefully on Saturday, Aug. 6, 2011.
He began life in the Bridgton area, son of the late Glen and Ethel Lamb Smith and brother to John, Fannie, Glenna, Ethel, Gus, Mary Lou and Glen Jr. Smith. After the Navy, he lived in Auburn, married Patty Abbott, had two daughters, worked for Central Maine Power for 50 years, and was also a 50-year member of the Masonic Tranquil Lodge 29 AF & AM.
"Smitty," also known as "Speedy" to a select group of friends, was a hardworking man who spent most of his life providing for his family. He enjoyed yard work, sunsets, thunderstorms and going out for big breakfasts. He'll be missed by many.
He leaves behind his wife of 52 years, Patty Abbott Smith; and daughters, Donna Theberge and Karen Smith, both of Lewiston.
Online condolences can be shared at www.thefortingroupauburn.com.
Visitation at the funeral home was on Wednesday.
The family asks that in lieu of flowers, donations be made to the St. Jude Children's Hospital.
Arrangements were by The Fortin Group Plummer & Merrill Funeral Home, Cremation and Monument Services, 217 Turner Street, Auburn, ME 04210.
Please follow and like us: