Former principal finds organic farming a healthy career change
By Wayne E. Rivet
Staff Writer
When Peter Mortenson was a classroom teacher, he taught students about both plant and animal sciences.
Today, he is using that knowledge to pursue a new career.
When Mortenson decided to resign as principal at Lake Region Middle School, he searched the educational landscape for a new job, but really didn't find a position that was enticing.
So, he considered another option — a fascination he has had for a long time — organic farming.
"I've always been involved in agriculture. That is what I taught when I was in the classroom, and I grew up around farms in a rural area," he said. "It's something that I've always wanted to try. So, the opportunity presented itself, and I spent the winter looking around for land."
Owning a home in South Bridgto,n where he raises pigs, chickens and turkeys, Mortenson scoured the countryside in search of farming land he could lease.
"Finding land was a big challenge. Most people look at open spaces as hay ground. I was able to get property in Naples because the person who was haying it no longer wanted to do it. They weren't getting enough hay off it," he said. "I spent time with soil conservation maps, Google maps and drove around, talking to people. I finally got lucky, finding some space in North Bridgton. Things rolled on from there."
While Mortenson is leasing about 25 acres, he is searching for more open space.
"I'd like to find another 20 acres because what I really would like to focus on are pick-your-own strawberries, grains and fall crops — winter squash, pumpkins, wheat, barley and oats," he said.
Once he made the decision to lose the necktie and leave behind the school setting in favor of jeans and a straw hat, Mortenson devised an ambitious business plan, which met the approval of a bank.
"One of the things I decided to do was to try just about everything. I have sheep, cows, pigs, chicken and turkeys. I put in wheat, oats, grain for flour, all kinds of vegetables from artichokes to zucchinis. I always knew I wanted to focus on strawberries and fall crops. The grains have come along," he said. "For me, this has been a real experimental year. It has been a wonderful experience for me — a chance to try new things, to test out some things I truly believe in."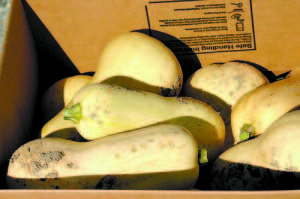 Having been a consumer of organic foods — "whenever I can find it" — for several years, Mortenson's goal for Fieldstone Farms is simple — provide quality food at a reasonable cost.
"What you see at the farm stand is cheaper than Hannaford's organic stuff," he proudly said.
Like many other area farmers, Mortenson brings his crops to local farmers' markets. While several have closed for the season, Mortenson still is participating at the Bridgton market on Saturdays, and he has opened his own stand on Fridays from 2 to 6 p.m. next to Hayes True Value ("I am very appreciative that the Hayeses have allowed me this opportunity," he said.).
From the start, Mortenson has kept his ears wide open to suggestions that could help his crops to ideas consumers may have. One idea to sprout up from a farmers' market resulted in the "Grab'n Go Dinner."
"A customer suggested that since I was setting up a spot here in Bridgton, I should put a sign in Naples and include a phone number which people could call up ahead of time and place an order," he said. "From there, it just ran."
The "Grab'n Go" includes four options, featuring organically-raised (not certified) beef, pork or country ribs, along with vegetables, a carbohydrate and a "treat," all modestly priced between $16 to $24. The meal is designed for two to three people. The call number is 321-9314.
"I am open to suggestions. I don't have chicken on the menu. It's tough to raise organic chickens these days due to the cost of feed. Everyone is trying to figure out how to do it at a reasonable price," he said. "I don't have lamb yet, but should have it in about a month."
Mortenson raises pigs "from scratch."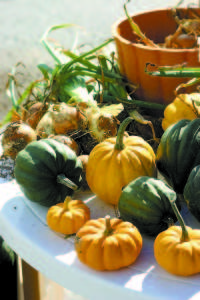 "Yes, I am trying very hard to do as much as I can organically," he said.
The "organic" way has exploded in recent years. Mortenson points to Whole Foods as a perfect example.
"Whole Foods didn't exist 15 years ago, and is now a huge chain," he said. "One of the things people don't understand about organic farming is that it is more about the soil. It's about creating healthy, living soil to allow the producer to grow well-balanced, healthy, nutritious crops. It's like us. If we don't eat anything but sugared foods, our bodies will not run as well. So, when you focus in on the soil, what you get is healthy, good crops."
Mortenson takes the same approach when it comes to raising his farm animals.
"My pigs are raised in a pasture. They're running around all day long, rutting up the ground, as opposed to being stuck on a concrete pad their whole life," he said. "They get a far more balanced diet. I take a lot of scraps down. They no longer are interested in tomatoes, but are really liking the kale. They really like to play with the corncobs. They are really no different than we are. If you try to feed them the same thing every day, they get a little persnickety."
Year 1 has had its share of ups and downs, and somewhat of a learning curve. Mortenson listed time, energy and weather as his biggest challenges.
"The biggest challenge of all three was the June rain. I had some oats in the ground and they started to turn yellow. It was so wet, so cold for so long," he said. "I couldn't get out to the fields until the middle of July, and you can't plant six acres of winter squash and pumpkins one seed at a time. You need to be out there on a machine. The fields were too wet. I couldn't get in."
His workday is a far cry from his days as a teacher and principal.
"I get up every morning, take care of the chickens and turkeys, which are at the house. Usually, 7 or 8, I'm off to one place or the other. Home by 6 and finish up sometimes at dark," he said. "I've lost 17 pounds since March. The doctor tells me my Vitamin D level is very good. It's a long day, completely different lifestyle. I'm my own boss. For me, it's been a wonderful change."
One reward has been meeting up with former students and sharing his new passion — farming.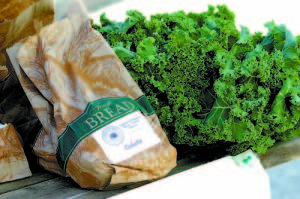 "I get the biggest kick when the kids come to the stand and I get a chance to talk with them. I talked with one girl whose chicken was going off to slaughter. We talked about it, and hopefully I helped her. Kids today don't understand the food process because they don't see the animals," he said. "Farmers' markets provide a chance for people to come and see what is going on and a chance to talk to farmers."
Because his other passion — teaching — still remains, Mortenson envisions offering farm tours and workshops in the future.
"Even though I am no longer formally in education anymore, for me, teaching is still is one of the best parts of life," he said. "I see more of my former students now than I did when I was in the school district. Nice time to visit on a completely different, relationship level."
Mortenson expects to continue to sell his wares — from winter squash, Buttercup, pumpkins, four varieties of onions, sweet potatoes and strawberries (through this month) — to Thanksgiving. He has had requests for large volumes of vegetables by customers interested in canning.
"I don't mind taking special orders. They can call me, and tell me what they want. I give discounts for volume," he added.
When the harvest is over, Mortenson will focus on equipment maintenance, taking care of his animals, prepare his paperwork for the "tax man" and "relax, just a little."
"There are a fair number of conferences, which are really important to go to. You learn about new varieties and techniques, and get a chance to listen to your peers to stay up to speed," he said.
One's education is always continuing, Peter Mortenson said, whether you are a middle school principal or organic farmer.
Please follow and like us: