Forest Strout
POLAND — Forest (Grandpa) Strout, 86, of West Poland passed away on Wednesday, Sept. 8, 2010 at his home with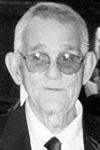 his loving family and friends by his side.
He was born on Black Cat Mountain in West Poland, May 3, 1924, the son of Silas and Junie Tripp Strout. He attended Poland schools. He served in the U.S. Army during World War II.
He worked many different jobs during his life, retiring from Agassiz Village in 1981. His death will make the whole world cry. He enjoyed playing horseshoes and cards. Most precious were his children and friends who loved him dearly.
Survivors include one sister, Lorene Edwards of West Poland; five daughters, Mrs. Jan (Vicki) Ward of Poland, Mrs. Clyde (Carla) Stanton, Mrs. Steven (Lorrie) Emery, both of West Poland, Mrs. Philip (Donna) Ring of Auburn and Jeanmae Sullivan of Cambridge, Mass.; seven sons, Gary Thurlow and Darren Strout, both of Auburn, Brian Thurlow, Kim Thurlow, Jeff Thurlow and Dana Thurlow, all of West Poland, and Keith Thurlow of Waterford; 26 grandchildren; 25 great-grandchildren; one great-great-grandchild; and many nieces and nephews.
He was predeceased by his beloved wife, Lorraine Strout; a brother, Asa Strout; three sisters, Louise Thurlow, Florence Ryder and Ada Tufts; and one grandchild, Paul A. Emery.
Online condolences may be shared with his family at  www.westonchandler.com
Graveside services were held on Saturday at Highland Cemetery in West Poland. Arrangements are under the direction of Weston-Chandler Funeral Home, 26 West Dwinal Street, Mechanic Falls.
Please follow and like us: