Florence Mains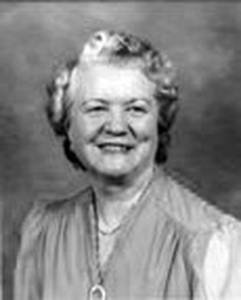 WESTBROOK — Florence (Tucker) Mains, 87, of Westbrook, passed away on May 17, 2012, at Gosnell Memorial Hospice House in Scarborough following a brief illness.
She leaves her husband, who was the love of her life and friend for 64 1/ 2 years, Ernest W. Mains Jr.
Born in Dyer Brook to Charles and Myrtle (Wise) Tucker, she grew up in Freedom. She was a member of the First Baptist Church, Westbrook, a dedicated Sunday school teacher, a person who actively lived out her faith. Florence was a Past Matron in the Order of the Eastern Star and was very active for over 50 years.
In her early years, she worked at Howard Johnson's Restaurant in Portland, and also at Sebago Moc in Westrook for four years.
Florence loved her family and stayed active in their lives. She enjoyed listening to Christian music and playing a variety of card games with friends and family. She loved jigsaw puzzles and cookouts with her family. She also enjoyed many years vacationing in Thorndike, back in the area where she grew up.
Florence was predeceased by her oldest son, Carleton in 1996; and her granddaughter.
She is also survived by a son, Robert of Standish; a daughter, Frances Mains of Westbrook; nine grandchildren including Tracy Gedicks of Raymond and Jason Linscott of Sebago; 17 great-grandchildren; one great-great-grandchild; two sisters, Mary Osmond Spiller of Westbrook and Beatrice Constable of Unity; a brother, Harold of Westbrook; and many nieces and nephews.
Visiting hours were held on Monday, May 21, 2012, from 6 to 8 p.m., at the Dolby Funeral Chapel, 434 River Road., Windham. Funeral services were held at First Baptist Church, 733 Main Street, Westbrook, on Tuesday, May 22, 2012, at 10 a.m. Burial will follow at Woodlawn Cemetery, Westbrook. Online condolences may be expressed at www.dolbyfuneralchapels.com
In lieu of flowers, donations may be given in memory of Florence Mains to: Shriner's Hospital for Children, 516 Carew St., Springfield, MA 01104 or Hospice of Southern Maine, 180 U.S. Route 1, Suite 1, Scarborough, ME 04074.
Please follow and like us: