Farm invites town to the table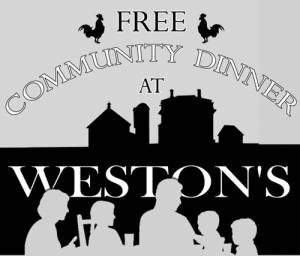 FRYEBURG —The modern farm serves many roles, from steward of the land to retail business to entertainment, but its most important role is to provide food for a community.
For more than 210 years, Rivercroft Farm of the Weston family has provided food for the Fryeburg and Mount Washington Valley communities. This has been a source of great pride for the family for seven generations.
To highlight this fact and reinforce a farm's role in the local food chain, the Westons are proud to offer a free dinner to the community next Tuesday, Aug. 28 from 5 to 7 p.m. at the farm on River Street in Fryeburg.
The Weston Farm is a seven-generation family farm located Fryeburg. Since 1799, the Westons have practiced sustainable agriculture on the rich soils of the Saco River Valley. Currently, over one thousand acres are under production in timber, diversified vegetable cropland, maple sugar orchard, Christmas trees and forage hay.
In July 2008, the farm was placed on the U.S. National Registry of Historic Places.
The dinner is the family's way of bringing the community together.
"This is something we have thought about for a few years now, but could never seem to get all the pieces together to pull it off," John Weston said. "There are three people that really got this started. Marc Libby, manager at our local Shaw's Supermarket in North Conway, was the first. From the moment I mentioned the idea to him, he said he and Shaw's would be behind it, and they have been."
Shaw's is providing the chicken, ice cream, paper and plastic products and cooking supplies.
"It was a big list, but for 600 (people) it would have to be," Weston said.
The next hurdles were how to cook all the food. Carol and Katy Noonan of Stone Mountain Arts Center in Brownfield quickly offered their services. Carol is used to cooking for large numbers and she has a tremendous sense of community and wanted to be involved. Both she and Katy provided the assistance to get an event like this organized.
"Without these people, this never would have gotten off the ground," Weston said. "The idea of bringing the community together to share a meal is a concept that sells itself. Asking people to help has been a pleasant and enjoyable task, and it's great to be so well received."
Brenda Thibodeau of Green Thumb Farms quickly offered their fresh potatoes for the dinner. Jonathon Spak, owner of the Oxford House Inn, offered his help and will be cooking the over one thousand ears of corn that will be husked by the Fryeburg Academy cross-country running and girls' soccer teams.  Fryeburg town officials offered their help by allowing the Westons to use the town beach for parking and the police department for crowd support. Fryeburg Fair offered picnic tables for diners to use.
"It is truly a community effort!" Weston said.
The menu will be Weston's corn-on-the-cob, Green Thumb potato salad, Stone Mountain picnic chicken from Shaw's, Weston's cherry tomatoes and Weston's maple syrup on Shaw's vanilla ice cream.
"We certainly hope for clear skies, but we will move into the barns if a storm is forecasted," Weston said. "This is a unique event that hopefully demonstrates the power of a community and the ability of our valuable farm lands to feed 600 people, free of charge, with the majority of the dinner being grown within just a few miles."
Free tickets are available at Weston's Farm in Fryeburg or at their farm stand on the West Side Road in Conway, N.H. Additional details are available at www.westonsfarm.com
Dinner info
Parking: There will be limited parking at the farm. It will be reserved for stand customers, handicapped and those that can only walk short distances. Dinner parking will be at the town beach (Weston's Beach) just across the river. It is a nice 1/8 mile walk across the bridge.
Those traveling from New Hampshire are encouraged to take East Conway Road to avoid congestion past the farm.
Residents of Fryeburg village are encouraged to walk or ride a bike.
Parking attendants and the Fryeburg Police will be helping.
Please follow and like us: