Evelyn F. Arsenault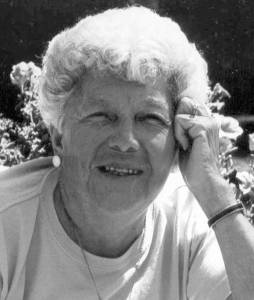 WESTBROOK — Evelyn Frances Marie O'Donnell Arsenault, 93, of Westbrook and formerly of Portland, died on Thursday, April 26, 2012, at the Gosnell Memorial Hospice in Scarborough.
Evelyn was born on Jan. 26, 1919, in Portland, the daughter of Michael E. and Nellie Conroy O'Donnell. She attended local schools and attended Cathedral High School.
She married Joseph Edmond Arsenault and they raised their three daughters in Portland.
Evelyn worked at W.T. Grant's, J.J. Nissen and did telemarketing for the M.S. Foundation.
She was a lifelong Boston Red Sox fan, but most of all she loved her family.
She was predeceased by her husband; sisters, Josephine O'Donnell and Mary Davin; brothers, Bernard O'Donnell, Peter Edward O'Donnell and Stephen O'Donnell; her daughters, Sharon Quatrano of Biddeford, Mary Arsenault of Casco and Deina Duval of Seattle, Wash.; five grandchildren; and six great-grandchildren.
Visitation was on Monday from 5 to 8 p.m. at the Conroy-Tully Crawford Funeral Home, 172 State Street, Portland. Prayers were recited at 10:15 a.m. on Tuesday at the funeral home, followed by an 11 a.m. Mass of Christian Burial at St. Patrick's Church, 1342 Congress Street, Portland. Burial followed at Calvary Cemetery, South Portland.
Online condolences may be expressed to the family at: www.ctcrawford.com
Please follow and like us: