Erna C. Hicks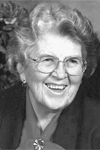 BRIDGTON — Erna Carlene Clifford Hicks, 84, formerly of Fryeburg, Maine and Zephyrhills, Fla., died Jan. 9th, at the Bridgton Health Care Center surrounded by her loving family and loving caregivers. She was born March 22, 1927, in Lewiston, the daughter of the late Charles and Anna Clifford. She attended Minot and Auburn schools and graduated from Edward Little High School in 1945. She also graduated from The Maine Medical Center School of Nursing as a Licensed Practical Nurse. She married Clarence Rowe Hicks of Minot in 1945.
She obtained her beautician's license to help support her family and worked at Gabe's Beauty Shop on Lisbon Street, Lewiston for several years before moving to various towns following her husband who was in the logging business. In 1954the family moved to Fryeburg to join her mother-in-law, Wilma Edwards Hicks, who was operating a nursing home in Fryeburg, which subsequently became Hicks Nursing Home on Oxford Street. She operated the nursing home until her retirement in 1995, at which time she moved to join Clarence in Zephyrhills, Fla. She remained in Florida until Clarence's death in 2004. She was active in community affairs, and she sang in the choir of the First Congregational Church in Fryeburg as well as the First Presbyterian Church in Zephyrhills. She was a life member of Center Minot Grange and a Past Worthy Matron of Pythagorean Chapter 169, Order of the Eastern Star in Fryeburg.
She was predeceased by three of her children, sons Dennis and Stephen and daughter Sharon, and also a brother, Charles Clifford of Minot. She is survived by her son David and his wife Elaine of Casco; granddaughter Jennifer Charles and her husband Daniel of Fryeburg; granddaughter Stephanie Homon and her husband Duaine of Durham; and great-grandchildren, Benjamin and Colby Charles of Fryeburg. She is survived by two sisters, Barbara Field and Charlene Nason, both of Minot, and brother Richard Clifford of Auburn; also, several step-grandchildren, and several nieces and nephews.
Family and friends may visit at the Wood Funeral Home on Warren Street, Fryeburg, on Sunday, Jan. 15, 2012 from 1:30 to 3 p.m. In the Spring Erna will be laid to rest at the family plot in the Center Minot Cemetery. In lieu of flowers, donations in Erna's memory may be made to: Alzheimer's Association, Maine Chapter, 383 US Route One, Suite 2C, Scarborough, ME 04074.
Arrangements are made with Wood Funeral Home. Online condolences may be expressed to the family at www.woodfuneralhome.org
Please follow and like us: