Emily L. Perkins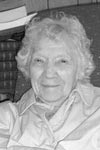 DANBURY, CONN. — Emily L. Perkins, 97, of Danbury, Conn., died Friday, Jan. 28, 2011, in Danbury, shortly before her 98th birthday.
She was born March 19, 1913, the daughter of the late Anna (Smyth) and William Leahy of Bethlehem, Conn. She later moved to Newtown, Conn., where she was raised. She graduated from Danbury, Conn. Normal School, now Western Connecticut State University, and was an elementary and preschool teacher. She taught school in Connecticut, New Jersey, Pennsylvania, and for many years at St. John's Episcopal Parish Day School in Tampa Fla., where she lived for many years.
For most of their married lives, Emily and Ralph spent summers at their cottage at Jewett Pond, where she delighted in the Maine summer and early fall. She loved nature and was never more content than when looking out onto the lake from her cottage living room, where she noted the arrival of each new creature and plant with delight. She was a passionate gardener and filled her yard and window boxes with flowers.
She was also an avid golfer and played well into her 80s with the Bridgton Highlands Ladies Golf Association. She had a wonderful sense of humor and was often impish, playing pranks on those she loved. She had an innate inquisitiveness; she was an ardent reader and always kept abreast of national and world events. She was a kind and loving person with a good heart whose presence was felt by many, including the many children she had in her classrooms over the years. Many of her students remembered her into their adulthood and continued to send cards and letters to their dear "Mrs. Perkins."
She leaves three nieces; and several great-nieces and great-nephews.
She was predeceased by her husband, Ralph L. Perkins; two brothers, William and Robert Leahy of Connecticut; and two sisters of Ireland.
Graveside services will be held June 10 at 1 p.m. at Woodlawn Cemetery, North Waterford. Arrangements are under the direction of Chandler Funeral Homes 45 Main St., South Paris.
Online condolences may be shared with her family at www.chandlerfunerals.com.
Please follow and like us: