Elsie V. Thompson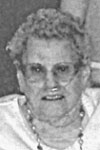 Elsie Villette Thompson, 81 passed away on August 12, 2011 at Fryeburg Nursing Home after a short battle with liver cancer. She was born on Jan. 24, 1930 to Lawrence and Hattie Bean. She was one of 13 children in her family. As a young woman, she left school to help care for her siblings and help with the family farm. In 1957 she married her love, Frederick Thompson. Fred and Elsie just celebrated their 54th year of marriage in April. Elsie had six wonderful sons, William "Wink," Frederick Jr., James, David, Jeff, and Tony. Elsie always supported her boys all her life, giving them comfort and love. She loved her grandchildren. She took pride in them as they grew up. Family members remember what an awesome hardworking mom and Grammy she was.
Elsie will always be remembered having fun with her family at cookouts. Taking family trips to Canada and Florida with her boys and their families. Elsie also had an extended group of friends at work which she enjoyed as well.
Elsie worked at Sebago Moccasin Shoe Shop in Bridgton for many years and retired from there. Elsie spent endless hours caring for her father at her home. No one can doubt that she was a comforting and caring woman. In her final days comical, funny, but truly sad without her husband, Fred. There are two surviving sisters, Camilla Mowett of Oxford, and Pauline Norton of Florida. They are the last living members of her family.
On May 23rd of this year, her husband, Fred Thompson Sr. passed away. She is predeceased by her five brothers, James, Lyman, Perley, Leon, and Roswell. Also by five sisters, Phyllis Millett, Elizabeth Yeaton, Lillian Edwards, Mary Bean and Florence Foss; and William "Wink" Thompson, who passed away from a motorcycle accident in 1985.Elsie leaves behind family, Donna Shannon, "Wink" Williams's wife, her sons and their families, Frederick Jr. and his wife Ramona of Bridgton, James Thompson and his wife Marilyn of Naples, David Thompson and his wife Cheryl of Norway, Jeffery and his fiancée Janalee Brown of Bridgton, and Tony Thompson and his fiancée, Laura J. McCabe; grandchildren, Koryn Thompson Spinks, Amanda Richardson, Becky Ferguson, Rachel Thompson, Corey Thompson, Carly Thompson, Julia Thompson, Tonya Thompson, David Thompson Jr., Megan Thompson and Shoshanna Thompson. Elsie was loved by her great-grandchildren, nieces, and nephews. Online condolences may be shared with her family at www.chandlerfunerals.com
A Funeral will be Sunday, Aug. 28, 2011 at 1 p.m. at Forest Hills Annex Cemetery on Kansas Road in Bridgton. After the service the family welcomes everyone to come back and enjoy some food and sto-ries at 33 Bayberry Lane, Bridgton. (Go up Rt. 93 to Highland Pines, take Bayberry Lane, There will have to be parking along the road). Arrangements are under the direction of Chandler Funeral Homes & Cremation Service, 8 Elm St., Bridgton.
Please follow and like us: