Elroy C. Winckler, 97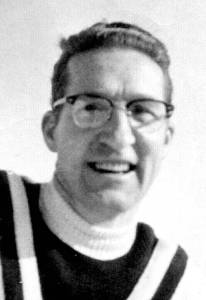 RAYMOND — Elroy C. Winckler, 97, died on Nov. 14, 2013, at a Portland nursing home.
He was born on Dec.19, 1915, in Portland, the son of Oscar and Pauline (Vogel) Winckler.
Elroy graduated from Portland High School and worked at the Naval Ship Yard during WWII. He later worked for Olson's sawmill for 27 years, retiring in 1978.
Elroy was an outdoorsman and enjoyed fishing, hunting, gardening, swimming and hiking. He had a small fruit orchard and tried his hand at raising bees. Elroy was a proud member of the Masons and Shiners and a staunch supporter of the Republican Party and the NRA. He was a gentleman, who had the ability to tell a story filled with facts, a little exaggerated at times, "to make a big story bigger." He will be missed by those who loved him and those who knew him only briefly.
In addition to his parents, Elroy is predeceased by his beloved wife, Venita I. Conant in 1993.
He is survived by his six children, John Winckler of Pennsylvania, Cliff Winckler of Naples, Eric Winckler of Casco, Anita Sanuk of Scarborough, Allan Winckler of South Portland, and Joan O'Reilly of South Portland; eight grandchildren; two step-grandchildren; and 13 great-grandchildren.
He wished not to have a visitation or a formal funeral services. A celebration of his life will be held with his family and those who cared for him at Seaside Nursing Home at a later date. Arrangements handled by the Dolby Funeral Chapel, Windham. Condolences may be left for the family at www.dolbyfuneralchapels.com
Please follow and like us: