Elizabeth L. Hunt
DENMARK — Elizabeth L. "Betty" Hunt, 78, died Friday, Oct. 8, 2010 at Bridgton Health and Residential Care Center after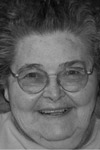 years of declining health.
Betty was born in Denmark, to Arthur E. and Mary Ridlon Bucknell on March 9, 1932. She graduated from Denmark High School and attended Gorham State Teachers College. In 1951, she married Robert "Bob" Hunt. They lived in Windham while raising their family. Betty was employed by the Windham School Department as a substitute teacher, and upon retirement, she and Bob moved to Denmark, while continuing to work summers as a receptionist at Rangeley Lake State Park. She also enjoyed her position as gate attendant at the Fryeburg Fair for many years.
Betty was a Past Matron of Evangeline Chapter #167, Order of the Eastern Star and a life member of Deering Chapter #59, OES. She loved her family, the outdoors, birding, hunting, fishing, her gardens, Papa Cat and Emma, her granddog. Betty and Bob traveled on their motorcycle to Blue Knights events with their good friends Gene and Polly Aube, camped throughout the northeast and visited the family log cabin, The Hermitage, at T6-R15 regularly. "Nana," as she was called by her grandchildren, was known for her good nature, her delicious biscuits, strawberry jam, piccalilli relish, sewing projects and the warm mittens that she knit for her family each Christmas.
Betty was predeceased by her parents and brother, Franklin Bucknell of Denmark.
She is survived by her husband Bob of Denmark, with whom she enjoyed 59 years of marriage; children Ron Hunt of Naples, Barbara Maurais of Windham, Scott Hunt of Fairbanks, Alaska, Susan Richardson of Denmark, Ella Cressy of Fryeburg; nine grandchildren; four great-grandchildren; brothers Roger Bucknell and M. Richard Bucknell, both of Denmark; sister Frances Beckett of Mechanic Falls; as well as an aunt, uncle and many cousins, nieces and nephews.
A memorial service will be held in the spring.
Arrangements by Dolby Funeral Chapel. Online condolences may be left at www.dolbyfuneralchapels.com
Contributions may be made in her memory to: MaineLyme, P.O. Box 8533, Portland, ME 04104-8533.
Please follow and like us: