Elinor Mains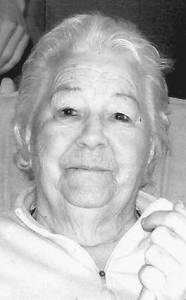 South Casco — Elinor Leavitt "Grama" Mains, age 84, died June 22, 2012, at Bridgton Health Care Center. She was born in Naples on Dec. 22, 1927, the daughter of D. Russell and Gladys Rogers Leavitt.
Elinor graduated from Bridgton High School in 1946. She was a member of the American Legion Auxiliary Post 155 in Naples for 25 years. She was a member of the Edes Falls Sewing Circle, a Trustee of the Murch  Cemetery and the Chairman of the Casco War Veterans Monument. She was employed as the Deli Manager for Federal Foods in Windham for 11 years and then became a cook at Bridgton Hospital for 15 years, and she worked at the Casco Inn for six years.
Elinor is predeceased by her husband John in 1984; four brothers, Roger, Merle, Paul and Richard Leavitt; and three sisters, Jeannie Garcia, Pauline Martikainen and Josephine Tenney.
Surviving are her daughters, Bonnie and husband James Canfield of Naples, Joan and her husband Glenn Cannell of Bridgton, Carol and her husband Darryl Watkins of Yarmouth, John Mains and  Wendy Cox of Naples, and Richard and  his wife Eileen Mains of Naples.
Elinor, lovingly referred to as "Gram," is also survived by 11 grandchildren, eight great-grandchildren, and numerous nieces and nephews.
She is also survived by two sisters, Evelyn and her husband James "Coot" Morton of Naples, Violet McNaughton of E. Hartford, Conn. and a sister-in-law Marian Leavitt of Naples/Norway.
During her lifetime Elinor was lovingly referred to as "Gram" by not only her own grandchildren and great-grandchildren, but by all of their friends as well. She had a heart big enough to become "Gram" to any child that wanted or needed one and she did.
At Elinor's request there will be a grave side service only, to be held at 11 a.m., Saturday,  June 30, 2012 at The Murch Cemetery, Rt. 302, South Casco, Maine.
In lieu of flowers donations in her memory may be made to the Edes Falls Sewing Circle, 23 Mill Lane, Naples, ME 04055. Arrangements are by Hall Funeral Home, Casco.
Please follow and like us: