Eleanor F. Hinkley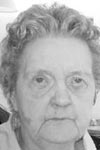 FARMINGTON — Eleanor F. Hinkley, 90, formerly of Strong, died early Sunday morning at Franklin Memorial Hospital.
She was born Nov. 19, 1920, a daughter of Raymond and Madeline R. (Lawton) Pinkham and received her education in Strong schools. She was a dedicated homemaker and had worked at Forster Manufacturing Co. Inc. in Strong. Her biggest hobby was following her great-grandson, Josh McBean.
She is survived by her children, Joyce of Strong, Elaine Collis of Sun City, Ariz. and Richard Hinkley of Texas; a brother, Leslie Pinkham of Casco; and 19 grandchildren.
She was predeceased by her daughter, Christine Searles; and sons, Maynard and Stephen.
Tributes and condolences may be shared on her tribute wall at www.wilesrc.com
Funeral services were held on Wednesday, April 6, 2011 at the Wiles Remembrance Center, 137 Farmington Falls Road, Farmington, with Rhonda Wiles-Rosell as celebrant. Cremation followed services at Gracelawn Memorial Park in Auburn.
The family asks that in lieu of flowers, donations may be considered to the Franklin County Animal Shelter, 550 Industry Road, Farmington.
Please follow and like us: