Elaine M. Anderson, 78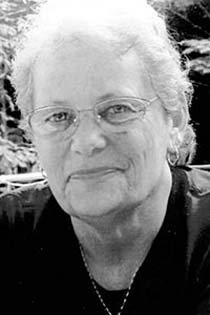 WEST BALDWIN — Elaine M. Anderson, 78, of West Baldwin, died on Tuesday, Feb. 26, 2019, at the Gosnell Memorial Hospice House in Scarborough.
She was born in North Conway, N.H., on Nov. 14, 1940, the daughter of Hazen and Bernice (Harrington) Wiley. She was educated in Baldwin schools and was a 1959 graduate of Potter Academy in Sebago. She married Jerry Anderson on Oct. 3, 1959. Elaine worked as a secretary for Travelers Insurance while living in Connecticut for a few years, and later worked several years for the Town of Baldwin as a secretary in the selectman/treasurer's office. She worked over 25 years as deputy clerk at the Oxford County Registry of Deeds in Fryeburg, retiring in 2005.
Elaine enjoyed being outdoors and soaking up the sun, as well as visiting many lighthouses. She also liked going to her children's and grandchildren's sporting events. One of her favorite hobbies was "shopping" with her two sisters and her cousin, Pam Howell. Church was a very important part of Elaine's life, from early days at the First Baptist Church in East Parsonsfield, which later moved to become the Hilltop Baptist Church in South Cornish. The church is now located on School Street in Cornish. She was a deaconess for many years and also sang in the church choir. She will be sadly missed by her family as well as her large church family.
Surviving are her husband, Jerry Anderson of West Baldwin; two sons, Brian Anderson of South Hiram and Brent Anderson of Baldwin and Cornish; two sisters, Janet Johnston of Connecticut and Joan Martin of Sebago; and her nine grandchildren.
A funeral service was held on Saturday, March 2, at 11 a.m., at the Hilltop Baptist Church, 17 School Street, Cornish. Her burial will be in Cornish in the spring. Arrangements are with Poitras, Neal & York Funeral Home. Online condolences may be expressed at: www.mainefuneral.com
In lieu of flowers, donations may be made to the church at that address.
Please follow and like us: