Edward T. Lee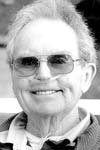 NAPLES — Edward T. Lee, 89, passed away on Dec. 26, 2011 at Bridgton Health Care Center after a long illness.
Ed was born in New York City, the only child of Edward C. and Minnie Lee on July 31, 1922.
Ed attended St. Ignatius of Loyola Grammar School and Regis High School in New York. He graduated magna cum laude with a BBA from the University of Maryland. He was a CPA in the State of Maine.
During WWII, Ed served in the Merchant Marines as the radio officer on Liberty ships in both the Pacific and Atlantic. After WWII, he enlisted in the United States Air Force. His tours of duty included the United States, Newfoundland, Iceland, Germany, Scotland and Turkey. He retired in 1967 and returned to Maine, where he worked on the audit staff of Jordan and Jordan. He practiced as a CPA until retiring in 1985.
Ed met his wife Rae in Scotland. They were married at Wichita Falls, Texas in November 1959. After Ed retired, he and Rae winterized their summer home at Brandy Pond, Naples and moved there permanently. They spent many happy years there. Ed loved to sail, scuba dive, swim, play bridge and play racketball.
For over 30 years, Ed volunteered his services as an active member of Navy-Marine Corps MARS (Military Affiliate Radio System) using his radio experience to provide communications support to the Navy, especially transmitting messages between deployed Navy and Marine personnel and their families.
Ed is survived by a cousin, Joseph Nelson. He also has relatives in Australia related to his late wife Rae.
A funeral mass will be held at 10 a.m. on Saturday, Jan. 7 at St. Joseph Catholic Church in Bridgton. Arrangements are by Hall Funeral Home, Casco.
Please follow and like us: