Edward Kuebler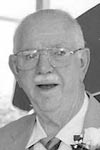 SOUTH PARIS — Edward Kuebler, 82, of Bolsters Mills, passed away Monday, May 16, 2011 at Market Square Health Care Center.
He was born Oct. 16, 1928, in Newark, N.J., to George and Louise (Zimmer) Kuebler. Edward and his first wife, Clara were owners of the Deerfield Inn in Chester, N.J., for many years, then moved to Bolsters Mills, where he had a woodcraft business.
He married Lorraine (Marquis) on Feb. 28, 1988, who passed away on March 13, 2008.
Edward is survived by his daughter, Karen Marlowe of Fuquay-Varina, N.C.; stepson, Frank Mnich of Piscataway, N.J.; stepdaughters, Laurie Vachon of Somersworth, N.H., and Barbara Warner of Millinocket; stepson, James Vachon of Dover, N.H.; 11 grandchildren; eight great-grandchildren; as well as many nieces and nephews.
He was predeceased by his first wife, Clara Kalumback; son, Andrew Kuebler; stepsons, Edward and John Mnich; and his siblings.
Online condolences may be expressed to the family at  www.oxfordhillsfuneralservices.com
Memorial services will be held at a later date at the Bolsters Mills United Methodist Church. Time and date to be announced.
In lieu of flowers, donations may be made in Edward's memory to Bolsters Mills United Methodist Church, P.O. Box 849, Harrison, ME 04040.
Arrangements under the care of Oxford Hills and Weston Funeral Services, 1037 Main Street, Route 26, Oxford.
Please follow and like us: