Edward C. Hall, Jr.
SEBAGO — Edward Corridon Hall, Jr. died early Monday morning, Oct. 25, 2010 in Portland.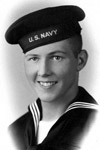 He was born in Quincy, Mass., a son of Edward and Harriet Lawson Hall. Edward worked for Proctor & Gamble for over 26 years in many capacities. He served in the U.S. Navy on the USS Wilkes-Barre during WWII. Edward was an avid boater, fisherman, snowmobiler and scuba diver.
He was predeceased by his daughter, Kathryn Wood.
Surviving are his wife Norma; his daughter Deborah Springhetti; his son Glenn Hall; three grandchildren; and three great-grandchildren.
Visiting hours will be held 6 to 8 p.m. on Friday at Hall Funeral Home, 165 Quaker Ridge Road, Casco, where a funeral will be held 11 a.m. on Saturday.
In lieu of flowers, contributions may be made to the Sebago Rescue Unit, P.O. Box 179 Sebago, ME 04029.
Please follow and like us: