Edna M. Millett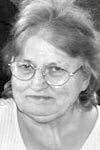 PORTLAND — Edna M. Millett, 67, of South Paris passed away peacefully on Friday, July 15, 2011 with family and friends by her side.
She was born on Aug. 2, 1943 in Norway to Charles and Ruby (Harding) Dodge.
Edna's family was the most important thing in her life. She enjoyed putting on huge family celebrations; cooking and laundry were her passions.
She is survived by her children Charles Poland of West Paris, William Poland of South Paris, Ruby Hathorne of Auburn, Hartley Millett Jr. of South Paris, Richard Millett of Auburn and Steven  Millett of South Paris; 10 grandchildren including Amanda Robert of Bridgton; four great-grandchildren including Mikhaila Robert of Bridgton; sisters, Gloria Dodge of South Paris and Carol Cole of South Paris; and numerous nieces and nephews.
She was predeceased by her parents, Charles and Ruby Dodge; sisters, Frances Dodge and Beverly Pepin; and brother, Charles (Sonny) Dodge.
Online condolences may be expressed to the family at www.oxfordhillsfuneralservices.com
Family and friends are invited to attend a celebration of Edna's life on Sunday, Aug. 14, at Reid State Park in Georgetown from 10 a.m. to 4 p.m. For all who want to share in this celebration, please pack a picnic and join us.
In lieu of flowers, donations may be made in Edna's memory to the Norway Food Pantry or your local food bank.
Arrangements under the care of Oxford Hills and Weston Funeral Services, 1037 Main Street, Route 26, Oxford, ME 04270.
Please follow and like us: