Dr. Sylvia D. Paige
Dr. Sylvia Drake Paige, 86, died Saturday, Sept. 18, 2010, at the Monarch Center Assisted Living Facility of Saco.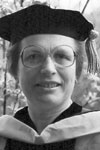 Sylvia was born Dec. 16, 1923, in Middleboro, Mass., the daughter of Lazelle and Reginald Drake. She graduated Phi Beta Kappa and Magna Cum Laude from Marietta College in 1944, received a master's degree in Nursing from Yale University in 1947, and earned a doctorate in Nursing Science from Boston University in 1980. Dr. Paige had a specialty in oncology and dedicated her professional life to improving quality of care to dying patients. She volunteered her time to Camp Sunshine and the hospice movement during its early years of development in southern Maine.
At the end of her life, she benefited greatly from their compassionate care. She was a dedicated, gifted, and beloved Professor of Nursing for over 30 years and taught at Case Western Reserve University, Mass General, and the University of Southern Maine. Dr. Paige was a Professor Emeritus of Nursing at MGH Institute of Health Professions. She received numerous teaching awards and was a recent recipient of the State of Maine's Lifetime Achievement Award and Yale University's School of Nursing Distinguished Alumna Award.
Throughout her life she had an interest in theater and the dramatic arts. She always loved to have students, friends, and family visit her at her cherished home on Sebago Lake.
Sylvia was predeceased by her husband, Harry in 1969; her sister, Reverend Thalia Drake Jillson; and her brother, Richard Drake.
She is survived by her four children, Beverly Paige of Harpswell, David Paige of Marietta, Ohio, Richard Paige of Raymond and Meredith Paige of South Orange, N.J.; nine grandchildren, and eight great-grandchildren.
A funeral service was held Wednesday at Hall Funeral Home, 165 Quaker Ridge Road, Casco.
In lieu of flowers, contributions may be made to the Alzheimer's Association at 170 U.S. Route 1, Suite 250, Falmouth, ME 04105.
Online condolences may be left for the family at hallfuneralhomeinc.com
Please follow and like us: