Dr. Edgar H. Hemmer
Dr. Edgar H. Hemmer, of West Lafayette, Ind. and North Bridgton, died Friday, Feb. 18, 2011.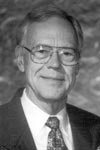 Services and burial were in Indiana.
Dr. Hemmer was well known in North Bridgton, where he and his wife owned homes for more than 40 years. Working only during the summers, he restored the former Farnsworth/Decker house, just south of the village, to its original condition, and the house is now listed on the National Register of Historic Places.
Dr. Hemmer was a graduate of the United States Naval Academy, Class of 1947, and held engineering and the Ph.D. degrees from Purdue University. He was a Navy pilot until he retired from the Navy in 1967, and then a university professor teaching corporate finance and real estate valuation at Wright State, Indiana and Purdue Universities.
Dr. Hemmer was active locally with the North Bridgton Congregational Church, was generous with his time and resources, and helped organize the Bridgton Rotary Club. He was an active member of Rotary International of Lafayette, chairman of the Salvation Army Advisory Board there, and an Elder of Faith Presbyterian Church. In Lafayette, he also directed the restoration of a 1921 theater, seating 1,200, which is also on the National Register of Historic Places.
Besides his wife, he is survived by their four daughters, five grandchildren and four great-grandchildren. Share memories and condolences online at www.hippensteelfuneralservice.com
Please follow and like us: