Douglas L. Moore II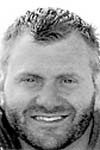 PORTLAND — Douglas L. Moore II, 41, of Portland, died unexpectedly on Friday, Dec. 30, 2011, at Maine Medical Center in Portland. Doug was born in Bangor on July 11, 1970. He spent his childhood years in Winterport, Wisconsin, Texas and New Hampshire. He attended Salem High School and New Hampton Academy in New Hampshire and continued his education at New Hampshire College and Hesser College.
Doug had a passion for music of all kinds, just take a look at his music downloads! He loved reading nonfiction books and magazines covering subjects such as nature and history, for which he had a particular interest in the World War II era. No one ever challenged him in a history or music trivia competition.
He was incredibly intelligent, as evidenced by his amazing memory, deep sense of humor, resourcefulness and his role as General Manager of Cabbage Island Clambakes, a family business. He loved the island and envisioned a cabin on the island spur known as Brussel Sprout. This complemented his love of boating, Linekin Bay, and the Boothbay Harbor environs.
Doug was looking forward to the future with his fiancee, Cathy Flaherty. She was the love of his life and with her in his life and envisioning their future together, he was the happiest he had ever been. Doug was known for his generosity, his warm-hearted teasing and deep, deep love for and loyalty to family and friends.
Doug was predeceased by his brother, Jay Moore; his paternal grandfather and namesake, Douglas Lindsay Moore, and his Nana and Papa, Eda and Orman Fortier with whom he spent much time at their home and at Whetstone Pond. He is survived by his most-loving fiancee, Cathy Flaherty, of Portland; mother, Cherie Moore, of Plymouth, Mass., father and stepmother, Wayne and Joanne Moore, of Boothbay and Edgecomb; paternal grandmother, Bennie Moore, of Easton, Mass.; sister, Jen Moore, of Raymond; two nieces; two nephews; loving aunts and uncles; and many cousins with whom he was very close.
Visiting hours will be held from 2 to 4 and 6 to 8 p.m. on Friday, Jan. 6, 2012 at Simmons, Harrington & Hall Funeral Home and Cremation Service, 975 Wiscasset Rd., Boothbay. A service to celebrate Doug's life will be held at 11 a.m. on Saturday, Jan. 7, 2012, at the Congregational Church of Boothbay Harbor. The Rev. Dr. Sarah Foulger will officiate. Family and friends are invited to join the family at McSeagull's in downtown Boothbay Harbor from 12 to 3 p.m. following the service. You are invited to share your condolences, photos, and memories with the Moore family by visiting their Book of Memories at www.hallfuneralhomes.com. Arrangements are entrusted to Simmons, Harrington & Hall Funeral Home and Cremation Service, Boothbay.
Should friends desire, contributions in Doug's memory may be made to: The Douglas L. Moore II Student Music Fund, Care of The First, P.O. Box 493, Boothbay Harbor, Maine 04538
Please follow and like us: