Dorothy J. (Smith) Dole, 91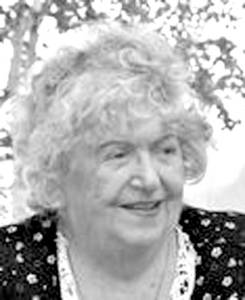 CASCO — Dorothy Jean (Smith) Dole, 91, of Casco, died on Sept. 7, 2012, at Country Village Assisted Living, where she resided for the last five years.
She and her husband, Richard Dole, had moved there from their beloved retirement home in South Londonderry, Vt., in March of 2007. He died two days before her birthday that May.
Recently, Dot had told people that her husband was coming to pick her up. On the morning of Sept. 7, Dick's birthday, she died peacefully and joined him.
Born in Boston, on May 20, 1921, Dot attended Roxbury Memorial High School for Girls, then worked as a bank teller after graduation and until she married her Navy man on April 20, 1943. They lived in Chelsea, Mass., Sebago Lake Village and Worcester, Mass., before building a home in Shrewsbury, Mass., where they raised their four children.
Their retirement home in Vermont was where they truly felt at home. They were active in the First Baptist Church of South Londonderry, where they had many friends. Dot was also Secretary of the Derry Dames.
After reluctantly leaving Vermont, Dot would often talk about the hills on either side of their little house by the brook, the beautiful autumn trees and their friends. Dot was a wonderful cook, liked to read and enjoyed letters and cards.
She was predeceased by two children, Laurie Jean and Jonathan Richard; and her husband, Richard D. Dole.
She is survived by her daughters, Claudia D. Lowe of Sebago, Mary D. Fohlin of Williamstown, Mass. And Leanna J. Dole of Morgan Hill, Calif.; four grandchildren; and two great-grandchildren.
A graveside service will be held at the Sebago Lake Cemetery, Route 114, Standish, on Tuesday, Sept. 18, at 11 a.m. Arrangements are under the direction of Dolby Funeral Chapel, 434 River Road, South Windham. Online condolences may be expressed at www.dolbyfuneralchapels.com.
Memorial donations may be made in Dorothy's name to: The First Baptist Church, P. O. Box 278, South Londonderry, Vt. 05155 or Country Village Assisted Living, P.O. Box 600, Casco, ME 04015 or Androscoggin Home Care and Hospice, 15 Strawberry Ave., Lewiston, ME 04240.
Please follow and like us: