Dorothy J. Malone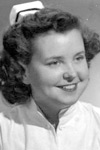 LACONIA, N.H. — Dorothy J. "Dottie" Malone, 83, passed peacefully Jan. 24, 2012 in Laconia, N.H., surrounded by her loving family.
She was born June 8, 1928, in Stow, the daughter of Charles and Eleanor (Bryant) Harmon. She attended schools in Lovell and graduated from Fryeburg Academy in 1947. Dottie went on to graduate in 1951 from Boston City Hospital School of Nursing. She was evening charge nurse in the Boston City Hospital emergency room until she left to start her family. She later worked from 1963 until her retirement as a nursing supervisor at the Youville Hospital in Cambridge, Mass.
Known as "Ma Malone" to everyone, Dottie was a warm and caring person. She opened her door and her heart and always had an extra place at her table. Her daughters, grandchildren and great-grandchildren were her pride and joy. She loved to travel, whether across town or half way around the world, her favorite destinations being Hawaii and the Mexican Yucatan. She created works of art with her knitting and crocheting, donating warm mittens and blankets to many area hospitals and charities. She enjoyed the challenge of a crossword puzzle, but mostly enjoyed beating everybody she played at cribbage, and this she did with a shy, but devious smile.
Dottie raised her children in Somerville, Mass. She moved to Weare, N.H., for her early retirement to be closer to her young grandchildren. She spent her later retirement years in Johnson, Vt. She received loving care through her final illness living in Laconia, N. H., with her daughter, Ellie and granddaughter, Allie.
She is survived by her four daughters, Dorothy Malone-Rising of Johnson, Vt., Ellie Malone of Laconia, N.H., Deborah Hesketh of Chester, N.H. and Denise Zera of Hartland, Vt.; her brother, Arnold Harmon of Otisfield; five grandchildren and five great-grandchildren.
She was predeceased by her sisters, Dolores Harmon, Betty Littlefield and Diana Loder; and her brother Merle Harmon.
A memorial reception and service was held at Woods Funeral Home, Fryeburg. Burial will be in Lovell in the spring.
In lieu of flowers, donations may be made in Dottie's memory to the Community Health and Hospice, 780 North Main Street, Laconia, NH 03246, or to the Lamoille Area Cancer Network, PO Box 38, Lake Elmore, VT 05657.
Please follow and like us: