Dorothy A. Parmenter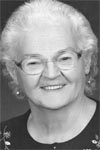 STOW — Dorothy A. Kneeland Parmenter, 75, of Union Hill Road died Monday, May 2, 2011 at The Hospice House in Auburn after a long, courageous battle with cancer. Born October 29, 1935 in Westbrook, she was a daughter of Harold S. and Sybil E. Timberlake Kneeland. Dorothy attended Westbrook schools and was a stitcher for Sebago Inc. for over 40 years, retiring in 1998. She was a member of the Women's Auxiliary of BMUMC, North Fryeburg. She was an avid reader, enjoyed traveling in her RV and spending time with her family.
Dorothy was predeceased by a brother, Albert "Wayne" Kneeland and a granddaughter, Darcy Wilson. Survivors include two daughters, Cynthia I. Wilson and her husband, Alton of Fryeburg, and Brenda L. Mann and her husband, Alan of Stow; two brothers, Richard L. Kneeland of Windham and Ronald E. Kneeland of Gorham; three sisters, Carolyn McIntire of Hollis, Jean Weeks of Windham, and Gladys Colby of Westbrook; a stepsister, Norma Schnyer of Milton, Georgia; three grandchildren, Melissa Smith, Clifford Wilson and Brianna Mann; and five great-grandchildren.
Visiting hours will be held at the Dolby Funeral Chapel, 434 River Road, Windham on Thursday, May 5 from 6–8 p.m. A funeral service will be held at the chapel on Friday, May 6 at 1 p.m. with burial at Pine Grove Cemetery, Fryeburg at 3 p.m. In lieu of flowers, donations in her memory may be made to Bradley Memorial United Methodist Church, 454 McNeil Road, Fryeburg Harbor, Maine 04037.
Please follow and like us: