Donna L. (Conrad) Dube, 59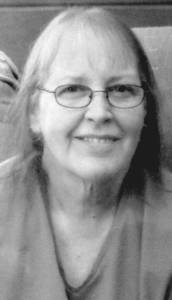 BRIDGTON — Donna Lee (Conrad) Dube, 59, of Lovell, died after a long, courageous battle with cancer on Thursday, May 1, 2014, at Bridgton Hospital. She was the wife of Francis A. "Fran" Dube.
Donna was born on May 17, 1954, in Lynn, Mass., the daughter of the late Emerson D. and Carol (Waitt) Conrad. She grew up in Lynn, attending local area schools, and graduated from Lynn English High School as a member of the class of 1972. She married Fran on Oct. 10, 1986.
She worked for JRC in Swampscott, Mass. After moving to Maine in 1989, she worked for both the Center Lovell Inn and the Center Lovell Post Office.
Donna spent much of her spare time quilting. She enjoyed her flower gardens and canning all the vegetables that her husband grew in his garden. She also enjoyed snowmobiling and cooking. She loved spending time with her family, especially when her grandchildren would come over to visit.
Besides her husband, she is survived by her daughter Lindsay Crooker-Mazariego, and her two children, Marcelo and William Mazariego, all of South Paris; and her two stepsons, Michael Dube of Swampscott, Mass., and Paul Dube, his wife Lindsey and their son Nicholas Dube, all of Marblehead, Mass. She also leaves three brothers, Donald Conrad of Lynn, Mass., Daniel Conrad and his wife Nancy of South Berwick, and Douglas Conrad, also of Lynn, Mass.; as well as two sisters, Debra Morrissey of Woburn, Mass., and Diane Monks of Lynn, Mass.; and aunts, uncles and several nieces and nephews. She was also the grandmother of the late baby Steven.
Relatives and friends are invited to attend a graveside service on Saturday, May 17, 2014, at 1 p.m. at #4 Cemetery, Kimball Road, in Lovell.
Please visit www.advantageportland.com to sign Donna's guestbook and to leave condolences and memories for the family. In lieu of flowers, donations in her memory may be made to: The Patrick Dempsey Center for Cancer Hope & Healing, 29 Lowell Street, Lewiston, ME 04240.
Please follow and like us: