David H. Purington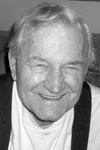 ST. PETERSBURG, FLA. — David H. Purington, 82, died Friday,  Nov.  18, 2011.
He was born Nov. 12, 1929, to Ivory L.B. Purington and Avis (Smart) Purington.
He lived most of his life in Harrison, working for the family business (Purington Lumber Co.) with his dad.  He also ran a small convenience store on Main Street in Harrison for a number of years. He worked for his lifetime friend, Eddie Rolfe, as a machine operator, and continued that line of work in his move to Florida, until his retirement at the age of 80.
He moved to Florida in the mid 1970s and fell in love with the state. There, he met his wife, Kandi, and spent many happy years, boating and camping and enjoying all that Florida had to offer. He was able to make a visit to Maine in June, and was able to visit many friends and family members. He will be sadly missed by all who knew and loved him.
He leaves his wife Kandi Purington; former wife, June Bishop and their children Gregory Purington of Harrison and Janet LeBlanc of Otisfield; former wife, Terri Purington and their son, Wade Purington of Georgia; a sister, Virginia Taylor of Harrison; five grandchildren and four great-grandchildren.
He was predeceased by former wife Joanne Purington; brothers, Ivory Purington, Jr. and James Purington.
At David's request, there will be no funeral or memorial service.
Please follow and like us: