Daniel H. Taggart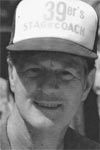 HARRISON — Daniel H. Taggart, 80, of Harrison and Byron, died Wednesday, April 13, 2011. He was born in Westbrook, December 15, 1930, a son of Leland and Edel Biltoft Taggart. Danny was educated in Westbrook schools and served in the U.S. Army. He worked in the woods and then became employed by S.D. Warren, from which he retired. He then became self-employed as a contractor. Danny was a big time fur buyer and trapper in the state of Maine. He enjoyed gold prospecting in the western part of the state. Danny was a member of the Maine Trappers Association and the NRA.
He was predeceased by a brother, Larry, and sister, Priscilla Allen. Survivors include sons, Scott and Bill Taggart, daughter, Cindy Lestage Wearner, brother, Bruce Taggart, a sister, Barbara Libby, and a very special grandson, Jacob.
Visiting hours were held on Monday, April 18 at the Dolby Funeral Chapel, 434 River Road, Windham from 5–7 p.m. Burial took place on Tuesday, April 19 at 1:30 p.m. at Woodlawn Cemetery, Westbrook.
Please follow and like us: