D. Gayle Weymouth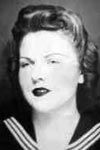 WATERFORD — D. Gayle Weymouth, 92, of Waterford, passed away Saturday, Jan. 21, 2012 at her residence.
She was born in Earl Park, Ind. on June 30, 1919, to William and Ivy (Sholaf) Confer. She worked for many years at Norway Shoe as a stitcher.
Gayle loved gardening, especially her flowers, spending time with her family, working and reading her Bible.
She is survived by her two sons, Greg Weymouth of Norway and Wesley Weymouth of Waterford; four grandchildren; 12 great-grandchildren; and eight great-great-grandchildren.
She is predeceased by her husband, Albert; sisters, Lola Medley and Fern McCusin; infant brother, Ellis Confer; and a grandchild.
Online condolences may be expressed to the family at www.oxfordhillsfuneralservices.com
Family and friends are invited to attend funeral services at 2 p.m. on Thursday, Jan. 26, at Oxford Hills and Weston Funeral Services, 1037 Main Street, Route 26, Oxford. Interment will be held in the spring at Hillside Cemetery in Stoneham, time and date to be announced at a later date.
In lieu of flowers donations may be made to Stoneham Rescue, P.O. Box 42, East Stoneham, ME 04231.
Please follow and like us: