Cyber friends meet, at last for a special delivery
By Wayne E. Rivet
Staff Writer
As Bob Forney of Bridgton was experiencing the most difficult time of his life — seeing his wife, Georgie, slowly lose her fight with Alzheimer's — he discovered a friend thousands of miles away.
"I do eBay, and about two years ago, Freddy became an eBay friend of mine," Bob said.
Freddy Slock lives in East Flanders, Belgium.
Over time and many online chats, the two men became close friends. They shared their thoughts on a wide variety of topics. As their friendship grew, so did their willingness to share very personal matters.
"As my wife battled through her Alzheimer's, I kept him posted. He was interested in what was taking place with us. We became very good friends. They prayed for me and my wife, Georgie," Bob said.
When she passed away on March 26, 2013 at the age of 73, Bob searched for ways to honor Georgie. One way was obvious. Georgie loved to read, so the Forneys donated money to Stevens Brook Elementary School — where Georgie taught — to purchase books. Because Georgie liked to take her students to the library, Bob also donated money to build a "reading hut," which was built and placed in the library. Bob told his children that his wish was to have a portrait of Georgie painted.
"I didn't know of any artists," Bob said.
Freddy, in the meantime, e-mailed Bob because he was excited that his granddaughter was planning to attend to his art studio to learn to be an artist.
"I had no idea he was an artist. He was just Freddy, a friend of mine. He does art shows. He is well-known," Bob said.
Another unexpected connection was made.
"So, I asked Freddy if he would consider doing a portrait of my wife. He said absolutely, and asked me if I would send a few pictures of her," Bob said. "He did the painting, shared it with me over the Internet so I could see how it was coming along. We had a phone conversation one day and Freddy said he and his wife, Rosette, felt they didn't want to take a chance mailing the portrait and having it damaged, so they wanted to bring it to Bridgton."
Appropriately, the Slocks made the long trip to the States on Father's Day weekend to personally deliver the portrait and for the first time to meet Bob face-to-face.
"They are absolutely the most wonderful people. I will never, ever forget them. I can't tell you just how thrilled I am. It is the best thing that could happen to me. When they came to Bridgton the other day (June 14), I didn't even know what they looked like. All we knew was that we had learned to love each other, we have the same things in common, and we prayed for a woman that we knew someday we were going to lose," Bob said.
Freddy Slock was delighted and honored that he could create a lasting memory for his close friend.
"I asked Bob to send pictures that would give me a very good idea what she was like. I tried to capture 'the person' she was. Bob told me she liked to walk up the road and see the Northern Lights, so I included those colors," Freddy said. "Most important thing, I believe, is that I felt she was there. It's emotional (Freddy started to break down in tears during the conversation). When it was almost done, I sent a copy via e-mail. Then, after a while, Bob sent me a page from the Bridgton News and there she was. Oh my God, it was overwhelming to see it in print. I was sure I was on the right road to paint as she was."
Freddy feels he was born to be an artist.
"No one in my family was an artist. My daughter studied art. I didn't have that opportunity. I had a career, and now I have time to put time into it. I paint for expositions, and it is always living things or landscapes. I don't do abstracts. I have to have feelings toward it. I have a little studio, and paint as I please. I teach myself. I find great enjoyment in it. I try to do my best," Freddy said. "The most important moment with Georgie's picture is when her daughter, Barbara, said, 'That's my mom.' That was very important to me."
When Freddy broached the idea of making a trip to the States to finally meet Bob and deliver the portrait, his wife, Rosette, had only one condition — she wanted to make the trip, as well.
"He felt a special connection with Bob, and when Freddy said he wanted to go see Bob, I said fine, but that I was going too," Rosette said. "I've seen a few programs about Maine and this region. I knew it had a lot of greenery, which is what I like. I love lobster. I haven't had any yet, but maybe before we go."
The Slocks arrived on Thursday, June 12. A domestic flight was canceled so they rented a car and drove from Newark, eight hours to Portland. Friday, the threesome finally met.
"I saw Bob, just as I imagined he would be. It was the first time I had laid eyes on him, but instantly felt he was my friend (again, Freddy's eyes watered up). It was something special," Freddy said.
Bob felt the same way.
"Over the period of time that we met over the Internet, we shared so much stuff from a personal standpoint, that it was like having a real good neighbor that you spend a lot of time with, share your life with, everything. That's what transpired. We shared anything that was on our minds, taking place. It was like family. It will always be that way until the day that I am gone," he said. "From my perspective, even though I had never seen Freddy, we had shared so much that I truly felt that I knew him."
The Slocks had been stateside before, visiting the Midwest, as well as California, Florida and New Orleans. Instantly, they fell in love with Bridgton.
"Bridgton is beautiful. The people, very nice. I like it here. Harleys, I've seen many of them while here. I have one in Belgium. When I see them here, I wish I had mine. I think we will be back, if we can. Being here on Father's Day, very special, something I will never forget. Bob is a friend for life," Freddy said. "When Bob or someone from his family ever comes to Europe, they will always be welcome to stay with us."
Bob hopes to make that trip, very soon.
During the stay, Bob and his friends toured the area, sampling all the best the Lake Region has to offer. The Slocks stayed at the Noble House Inn. They loved the inn and the hospitality they experienced. The trio also took in a show at Stone Mountain Arts Center.
"Loved it. Carol, whom I know, treated us like royalty. I was so glad to be able to go, so part of Maine," Bob said. "I love Bridgton, been here 35 years, and no one could take me from here."
While the Internet was responsible for making the world a little smaller place by hooking up Bob and Freddy, they discovered just "how small the world can be," while enjoying shakes on the Naples Causeway.
"We were sitting on a bench watching boats on Long Lake when a woman approached and asked if we had seen the Songo River Queen (which was out on a voyage at that time). The woman told us that she used to bring her mother here to watch the boats. She has since passed away because of Alzheimer's," Bob said. "Later, I was attending an outdoor concert at The Noble House when someone tapped me on the shoulder. It was the same woman. I found out that, like my Georgie, she is a kindergarten teacher and had applied for a position at Stevens Brook (Elementary), where Georgie taught. It really is a small world."
Bob is forever grateful that fate and technology led him to Freddy and Rosette Slock.
"He answered my prayer, wanting to paint a portrait of my dear wife. When he told me about his granddaughter attending his art studio, I probably had the biggest smile I've ever had on my face because I knew I had found my artist," Bob said.
Freddy Slock was that someone Bob thoroughly trusted to capture the essence of the love of his life.
Mother-daughter love story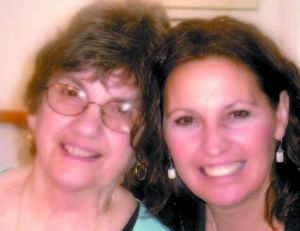 When her mother — longtime local teacher Georgie Forney — died following a battle with Alzheimer's, Barbie DelCamp decided to write a book about their journey.
Her book, "When It's All Said and Done," is a mother-daughter love story, and a sharing of experiences while walking through this illness.
"It is about coming to the realization that life goes on in spite of caretaking for someone who has this illness," said Barbie, who lives in Portland and owns SweetGeorgieAnnsBookandWhatNot on Washington Avenue.
Georgie Ann Walizer Forney died at 73 years old on March 26, 2013 from Alzheimer's and related complications. "When It's All Said and Done" is an autobiographical account, written in a time frame beginning in 2000, until the death of Georgie Ann. It is written from a Christian believer's point of view.
In "When It's All Said and Done," Barbie addresses many of the commonalities in all terminal illnesses, as she takes the reader on a sojourn through love, denial, sadness, laughter, despair, loss, grief and finally…hope. This first book is unapologetically forthright, honest and deeply personal.
Alzheimer's, along with its effects on family caregivers and survivors, continues to be one of the fastest growing illnesses among baby-boomers. Contrary to commonly held beliefs, Alzheimer's disease is not a "normal" part of getting older.
The book can be purchased at Amazon.com
And https://www.sweetgeorgieannsbooksandwhatnot.com
Please follow and like us: