Concerns raised about Camp Sunshine building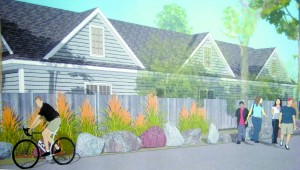 By Dawn De Busk
Staff Writer
CASCO — Local neighbors brought forward many quality-of-life concerns as well as worries about increased water pollution and road degradation if a large maintenance shed is allowed to be built on a quarter-acre corner lot.
Representatives of Camp Sunshine brought their rebuttals to the microphone, saying the state levies stricter water protection requirements on corporations versus residents, and the company planned to step up to the plate on road repair.
The nonprofit based near Big Sebago Lake in South Casco has proposed to build a two-story maintenance building on the parcel that Camp Sunshine purchased in a residential neighborhood.
But first, Camp Sunshine must get a contract zone change, which would allow it to operate as a land-owning entity separate from Point Sebago. And, before the contract zone change can occur, it must be approved by residents at a town meeting.
Tuesday's public hearing was one of the steps required for a zone change; and both the Casco Planning Board and the Casco Board of Selectmen sat through the hearing. Afterwards, the board members conducted their regular meetings.
According to Town Attorney Natalie Burns, "All rezoning has to do is to be consistent with the town's comprehensive plan. That is why they (Camp Sunshine) have to provide some explanation as to how it is consistent with the comp plan."
"It may be that others disagree with it.
Ultimately, it is up to town meeting itself to make that change," Burns said.
During the public hearing, many aspects of the Town's Comprehensive Plan were quoted. The same reasons people live in rural Maine are the reasons the residents wanted to put a stop to Camp Sunshine's expansion plans. Those include peace and quiet, places that provide recreational opportunities for its residents, and the small town atmosphere.
"We all drive by that property. It is part of the ambiance," resident Elaine Gifford said.
"All of a sudden to have a 25-foot tall building with an eight-foot tall stock fence — I can tell you know it will change the ambiance of that neighborhood," she said.
"We are not talking about doing away with Camp Sunshine," she prefaced.
"But, I don't understand how putting a maintenance building on that property is going to provide $200 a year to the road association? My husband and I walk Arcadia Road two or three times a week. The worse part of Arcadia Road is right in front of Camp Sunshine's property," she said.
When Gifford first stepped to the microphone, she said she had applauded Camp Sunshine when it created a nature trail on the property next to her home. But, using the lot for maintenance equipment and an oversized shed would grind against the character of her neighborhood, she said.
"The town or another board should have slowed it down, and make certain what is going on," she said.
The massive structure, which would be constructed using the same setback as the previous owner's building — 25 feet from the road, was a major concern to neighbors.
According to Bill O'Donnell, "The 30 by 100 (square foot) proposed building does not fit the character of the neighborhood."
"It will not provide a financial benefit to the town," he said, adding the nonprofit will be exempt from property taxes.
"There will be no recreational opportunities for local residents. It does not contribute to local commerce since campers stay on property," he said.
"Their proposal is in opposition to this by the neighborhood," O'Donnell said, citing many emails to selectmen over this 10-month-long process.
"How can this be approved by the planning board, and passed by the residents at town meeting — despite objections from the property owners?" O'Donnell said.
On Tuesday night — following the 90-minute public hearing — the Casco Board of Selectmen voted to put the issue on a warrant for a Special Town Meeting in January.
According to Town Manager Dave Morton this process puts a halt to Camp Sunshine's current plans to transform the lot into a spot for landscaping maintenance equipment and other supplies.
Camp Sunshine's site plan review will not appear before the planning board "until town meeting deals with the subject; and it will only go forward if town meeting votes to approve contract zone change," Morton said.
"The selectmen agreed to send both contract amendments to Town Meeting — that was all they did," he said.
Therefore, the residents will have a final say in the matter — of allowing Camp Sunshine to be granted a contract zone change. The issue of Camp Sunshine's contract zone will be revisited at town meeting in January.
To view the Aug. 21 public hearing in its entirety, watch the rebroadcasts on local cable TV, or check out Lake Region Television's website.
Please follow and like us: