Citizen of the Month: Garrett LaBarge
Garrett LaBarge of Bridgton has been selected as the Bridgton-Lake Region Rotary Club's "Citizen of the Month" for October.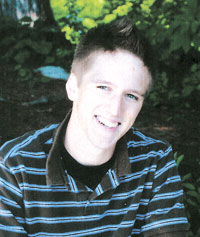 Each month, the Rotary Club recognizes a Lake Region High School student who displays good citizenship and contributes to the school community. The recipient is honored at a Rotary breakfast meeting and is presented a savings bond.
Parents: Geoffrey LaBarge and Mitzi McIver-LaBarge.
Siblings: Sawyer and Ava.
Activities: Snowboarding, playing guitar, writing songs, getting famous, making friends and spending time with family.
Community activities: Junior Ski Patrol at Shawnee Peak, outdoor emergency care classes, fundraisers for Pulmonary Hypertension, fundraisers for Class of 2011, fundraisers for Helping Hearts.
Hobbies: Snowboarding, playing guitar, writing songs.
Future plans: Go to college and make a difference in the music industry.
What is your favorite class? English, because I have the chance to be the most creative.
What is your toughest class? My toughest class includes algorithms, quadratic equations, eraser dust storms and thinking inside the box.
How do you balance your class work and your extracurricular activities? I put everything into moderation and try my hardest to organize my priorities. Oh, I am also part super hero.
What is the biggest challenge high school students face today? Being true to yourself and to others, as well as finding a study hall pass.
Who has inspired you educationally? Mr. Carlson, my junior English teacher, taught me to have character, pride, not to put all of one's eggs into one basket, and how to laugh at yourself.
Please follow and like us: