Christine M. Gyure
CASCO — Christine M. Gyure, 100, formerly of Bridgton, passed away on Friday, Jan. 28 at Country Village Assisted Living Center in Casco.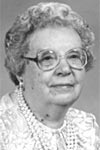 She was born in Watertown, N.Y. on July 2, 1910, the daughter of Kent G. and Elizabeth Berner Boynton. She attended Watertown schools and graduated from Syracuse University with a nursing degree. She married Benjamin J. Gyure. She worked as a registered nurse at Bridgton Hospital for more than 30 years. In the 1940s she served as Head of the Red Cross in Bridgton. She also served at local camps in her capacity as a registered nurse. She was a longtime member of the Congregational Church in Bridgton, belonging to the Friendship Club and Literary Club at church.
She is survived by her daughter, Linda Simard of Vero Beach, Fla.; 13 grandchildren; 29 great-grandchildren; and several great-great-grandchildren. She was predeceased by her husband in 1976, and two sons, Richard and Robert. Graveside services will be held in the spring at Forest Hills Annex Cemetery in Bridgton.
Donations in her memory can be made to the Congregational Church in Bridgton. Arrangements are under the direction of Raymond-Wentworth Funeral Home, 8 Elm St., Bridgton. Online condolences may be shared with her family at www.andrewsgreenleaf.com
Please follow and like us: