Chalmers Insurance project gets green light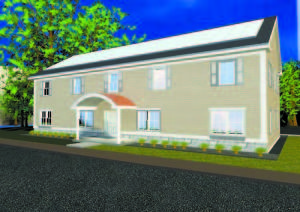 By Gail Geraghty
Staff Writer
The Bridgton Planning Board gave preliminary site plan approval Tuesday for a new two-story office building across from the Big Apple on Main Street. The 2,380-square-foot building at 88 Main Street will serve as the new headquarters for the National Health National Accident Health General Agency (N.A.H.G.A.), the small claims insurance division of the Chalmers Agency.
The existing N.A.H.G.A. building, which was originally built as a Dairy Queen restaurant, will be torn down, and a 30-space parking lot will take its place, with access from the adjacent Bacon Street. The new building will be built right up to the sidewalk, with a Main Street entrance as well as rear entrance from the parking lot for the workforce.
The project, which will undergo a final findings of fact at the board's next meeting, is expected to be constructed this March, with completion by end of the summer. The builder is Main Eco Homes, which is currently finishing work on a new two-story retail/office building diagonally across Main Street. Main Eco Homes President Justin McIver said Chalmers "is really thinking about the community" in choosing this new construction to meet their needs, instead of adding on to the existing N.A.H.G.A. building, which they could have done.
"This is a big investment for them, and will bring a big benefit to the community," McIver said. He said the new building will allow them to increase their workforce at N.A.H.G.A. from 28 to 40 employees.
The board, as well, was impressed by the thoroughness of the project's design. Board Chairman Steve Collins said the board is especially pleased that the rear parking lot will be further away from Stevens Brook at the rear property line.
"This makes it less nonconforming" on what is now a nonconforming lot, Collins said, adding that the overall design is "very well done," with a 2,000-square-foot overall decrease of impervious surface. The board was also pleased that the design eliminates a curbcut onto Main Street. Anne Krieg, Bridgton's Director of Planning, Economic and Community Development, was also pleased that the design is in keeping with the overall Main Street Streetscape draft plans that are now in the initial design stage.
"I think Main Street is definitely on an uptick," said Collins.
The current N.A.H.G.A. office building will stay operational while the new building is being constructed. Once the new building is finished, the old Dairy Queen building will be removed, as well as the rest of the existing pavement. The new building will feature earth tone engineered wood siding and wood trim, and will contain a total floor space of 4,896 square feet. The existing Chalmers Insurance Claims Center and Chalmers Realty sign will remain as is, and will not need to be disturbed during construction.
Selectmen ok sewer allocation for Chalmers
Chalmers Insurance Group has been granted a request for an additional sewer allocation in order to build a new office building at the corner of Main and Bacon Streets to replace their N.A.H.G.A. division office building.
Selectmen approved a total of 150 gallons per day of additional allocation at their Jan. 26 meeting, by combining requests for two properties. The first, the N.A.H.G.A. building at 88 Main Street, was a request for 42 gallons a day, and the second was a request for 107 gallons per day for their main office building at 100 Main Street.
Selectman Paul Hoyt led off discussion by asking how the board, acting as Wastewater Commissioners, could be considering any extra sewer allocations at all, considering that they were told two weeks ago that all of the available allocation had been used up.
Town Manager Bob Peabody said that in researching Chalmers request, the town learned that an extra 353 gallons per day of allocation was available at Chalmer's N.A.H.G.A. building, left over from when it was originally built as a Dairy Queen restaurant. The allocation still existed, but was not used, after the building was converted for office use to service N.A.H.G.A., the National Accident Health General Agency that is Chalmer's third-party medical claims service.
The spreadsheet of available allocation maintained by the Wastewater Committee continued to show 530 gallons per day for that building, instead of the 177 gallons per day it was actually using, Peabody said.
"So 353 gallons (per day) still exists in the town's hands," he said. The building at 100 Main Street, which has 35 employees, is currently on an old septic system, and Chalmers wants to hook that building up to the town's sewer system.
Chalmers Insurance went before the Bridgton Planning Board Tuesday for site plan approval of the new building at 88 Main Street (see story, page 1).
Please follow and like us: