Catherine L. Fisher
Bridgton — Catherine Lois Hersey Hagerman Fisher died at 3 p.m. Thursday afternoon, Jan. 20, 2011 at the age of 85 years and 20 days. Her health had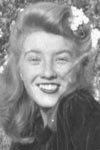 been failing over the past couple of years due to diabetes. However, more recently, she was treated for pneumonia at the Bridgton Hospital from which she failed to rally.
Lois was born in Easton, Aroostook County, Maine on Jan. 7, 1926. She was the daughter of Verde Harold Hersey of Easton and Millie McCarty of Westfield, Aroostook County, Maine.
She graduated from Easton High School in 1945 and continued her education at Aroostook State Normal School in Presque Isle, now known as the University of Maine at P.I.
On August 31, 1947 she married Ralph Benjamin Hagerman of Mars Hill. From this union three children were born: Roxanna Rae Hagerman, Ralph (Rick) Hagerman Jr., who was tragically killed during a hurricane in the Virgin Islands in Sept. 1995, and Greggory Kent Hagerman of Bridgton, who was also sadly killed by a drunk driver Jan. 30, 1993.
Lois was predeceased by a second husband, Lawson A. Fisher, of Fort Fairfield.
She was the seventh born of nine and last deceased. Siblings were: Verna Jewell, Vena Ames, Madeline Gardner, Virginia Wiggins, John Hersey, Lorna Lemieux, Elizabeth Tweedie and Robert Hersey.
She was an amazing potato-picker who outpicked all other women by totaling 100 barrels a day at times. Mrs. Fisher moved to Bridgton from Mars Hill to be closer to her grandchildren, Ali and Ryan, as well as her faithful canine friend Racheme. She was a collector of many things, some of which included Larry Bird memorabilia, antiques, photographs, beanie babies and rabbits. She adored dogs and tolerated cats. She did a great deal of traveling with her sister-in-law Mary Hagerman and her niece, Nancy. She was feisty in nature, yet petite in size.
For many years Lois volunteered for the Foster Grandparent Program where she cared for children while their parents earned their GED.
She is survived by a daughter, Roxanna Rae Hagerman of Bridgton, four grandchildren: Patrick Ahern of Saco, Ali Rae Hagerman of Arlington, Va., Ryan Pellegrini of Bath, India Rae Bell of Bridgton, twin great-grandchildren Kendall and Reese Darling-Pellegrini of Bath, a daughter-in-law Susan Pellegrini-Allison, also of Bath, and brother-in-law James H. Tweedie of Robinson. Also surviving are many nieces and nephews whom she loved dearly; she was especially close to nieces Patti Tweedie McCrum of Mars Hill and the late Sharon Gardner of Florida.
A funeral service was held Monday, Jan 31, 2011 at the Raymond-Wentworth Funeral Home, 8 Elm Street in Bridgton. Burial will be in the spring.
Please follow and like us: