Carolyn B. Brooks
COLEBROOK, N.H. — Carolyn B. Brooks, 73, of Colebrook, N.H. passed away on Thursday afternoon, Dec. 16, 2010, at the Upper Connecticut Valley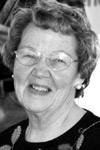 Hospital in Colebrook, N.H., surrounded by her loving husband and friends, and after a courageous battle with cancer.
She was born in West Baldwin on June 6, 1937, a daughter to the late Percy and Olive (Stanton) Burnell. Carolyn was a graduate of the Potter Academy in Sebago.
Music and family were central to Carolyn's life, and she will be remembered as one of the area's most beloved musicians. As the anchor to the musical group known far and wide as "Carolyn & Friends," she and her husband, Brad, along with many other local musicians, provided musical entertainment and enrichment to many local events and charities for many years. Her other interests included gardening, writing poetry, and spending time with her family.
Carolyn was a member of the Monadnock Congregational Church, a member of the Mohawk Grange and the West Baldwin Grange for more than 50 years, and a member of the Order of the Eastern Star. She will be dearly missed by her family and her extended family of countless friends and neighbors.
She leaves behind her loving husband of 54 years, Bradford Brooks of Colebrook, N.H.; three sons, Clinton Brooks of Colebrook, Stanton Brooks of Peaks Island and Leland Brooks of Columbia Falls, Mont.; five grandchildren; two great-grandchildren; a brother, Robert Burnell of Fryeburg; as well as several nieces and nephews.
Calling hours were on Monday, Dec. 20, 2010, at the Jenkins & Newman Funeral Home in Colebrook, N.H. A Celebration of Life service was held on Tuesday, Dec. 21, at the Monadnock Congregational Church in Colebrook with the Reverend Rebecca Larson officiating. A committal service and interment will be in the spring at the Colebrook Village Cemetery.
Expressions of sympathy in Mrs. Brooks' memory may be made to the UCVH, 181 Corliss Lane, Colebrook, NH 03576.
Condolences may be offered to the family on-line by going to www.jenkinsnewman.com. Funeral arrangements are under the direction of Jenkins & Newman Funeral Home, Colebrook, N.H.
Please follow and like us: