Carol M. DeLano
BROWNFIELD — Carol M. DeLano, 84, of Brownfield died Thursday, Feb. 3, 2011 at Maine Medical Center in Portland.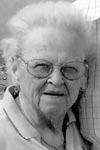 She was born in Barnstable, Mass., the daughter of Chester and Maude "Munyan" Wright. She was educated in Falmouth, Mass. schools, graduating from Lawrence Academy in Falmouth. She attended Mass General School of Nursing.
Carol was employed by Kezar Lake Country Club for 26 years. She was very active in Eastern Star and Rainbow Girls in Falmouth, Mass., and also the Eastern Star and Rainbow Girls in the Brownfield area. She was a member of the Brownfield Congregational Church, "This and That Women's Group" of Brownfield, secretary and treasurer of the Brownfield Snowmobile Club for many years, and was also active in many other community activities.
She was predeceased by her husband, Howard DeLano, Sr. in 2009.
She is survived by a son, Howard "Bud" DeLano of Iron Mountain, Mich.; a daughter, Gail Gormley of Warwick, R.I.; and four grandchildren.
Visiting hours were held Tuesday, Feb. 8 at Wood Funeral Home, 9 Warren Street, Fryeburg. A funeral service was held Wednesday, Feb. 9 at the Congregational Church in Fryeburg.
In lieu of flowers, memorial contributions may be made to: Brownfield Food Pantry, in care of 1 Pleasant View Lane, Brownfield, ME 04010.
Arrangements are made with Wood Funeral Home. Online condolences may be expressed to the family at www.woodfuneralhome.org
Please follow and like us: