Carl F. Thompson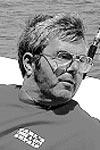 GLOUCESTER, Va. — Carl F. Thompson, 63, of Gloucester, Va., died on Sept. 17, 2011, at Walter Reed Hospital in Gloucester, Va.
He was born in Portland on Aug. 12, 1948, the sixth child of Miles J. and Roberta C. (Walker) Thompson. He was educated in Westbrook and was a 1966 graduate of Westbrook High School.
He served in the U.S. Air Force and retired while stationed at Langley Air Force Base, Hampton, Va., after 20 years of service.
He made his home in the Gloucester area establishing his business, Carl's Truck & Auto Repair at Gloucester Point.
He was an avid race car fan, raced at Langley Speedway, and for several years was the flagman. He also enjoyed boating, fishing, and motorcycling.
He was married in August of 1989 to Roswitha Schmidt. Surviving are his wife of Gloucester, Va.; a daughter, Patricia Casey of Hampton, Va.; his sons, Carl Thompson Jr. of Fredericksburg, Va., Craig Thompson of Sarasota, Fla., Bryan Casey of Hampton, Va., and Kevin Casey of Gloucester, Va.; and 11 grandchildren. Also surviving are brothers, Robert W. Thompson of Westbrook, and M. Benjamin Thompson of Damariscotta; and sisters, Carole D. Black of Westbrook, and Jill E. Horr of Raymond. He was predeceased by his parents of Westbrook; and by his brothers, William J. Thompson of Buxton, and Clinton E. Thompson of Windham.
A celebration of life service was held at Gloucester Point Baptist Church on Sept. 22.
In Carl's memory, contributions may be made to: The Gloucester-Mathews Humane Society, P.O. Box 385, Gloucester, VA 23061.
Please follow and like us: