Cape rushing attack 'Weare-s' down Lakers in C quarterfinals
By Wayne E. Rivet
Staff Writer
CAPE — As Brian Jahna looked at the clock with 2:08 left in Friday night's playoff game, he still managed to smile.
The score — Home 50, Guest 7 — certainly would leave a scowl on most coaches' faces.
Not Coach Jahna.
The smile was for the seniors, whom he walked out onto the stadium's artificial turf after calling a timeout and offered a congratulatory hug. While the seventh-seeded Lakers (5-4) had been crushed by second-seed Cape Elizabeth (7-2), Coach Jahna was proud of the way his team battled all season, earned a playoff berth for the first time in over a decade, and in the face of a frustrating and demoralizing defeat, played with class and character.
"Playing with class and character is what our program is all about. I think sports reveal who you are. There are opportunities to improve who you are. We know football is just a game. It's how you respond to things that happen inside the game. I couldn't be prouder of being a part of this group of young men," the coach said. "A lot of things were being said (out on the field), but our guys did a nice job of not responding, getting back to the huddle, and playing with class and character. That's what we are about. It will always be more important than a football game."
Eleven played their final game in Laker blue and gold — Paul Walker, Derek Mondville, Hunter McDaniel, Eric Milton, True Meyers, Andrew Douglass, Tyler Breton, Zack Clark, Keagon Leighton, Thomas Noble and Nathan Noble.
"They are a great group of guys," the coach said. "I am very proud of what they were able to accomplish this season."
Facing a high-powered Cape offense and a very stingy defense, Coach Jahna felt the only way his club could stage a major upset would be to control the ball and the clock.
They couldn't do either.
Bruising senior running back Ryan Weare rushed for 125 yards and rushing partner Jack Glanville scored twice as Cape rolled to 272 yards on the ground. LR was unable to sell out defensively to stop the run because Cape quarterback junior Andrew Hartel had the arm and speedy receivers to stretch the field. Hartel completed 6-of-7 passes for 103 yards and three touchdowns.
"They were using an unbalanced line, which we didn't diagnose right away (two or three series). Once we made a few adjustments, we were a little better," Coach Jahna said.
Better, but hardly great as the Capers rushed to a 22-7 lead after one quarter and added two more touchdowns before the halftime break.
The Lakers caught an early break when a punt was mishandled and recovered by Brent Massey at the CE-48. But, the Lakers created very little running room for senior Andrew Douglass, who was bottled up for short gains all night by CE linebackers Weare and Bear Huffard. Douglass carried 22 times for just 56 yards — 2.5 yards per carry, his longest run being six yards.
"They have a good defense. The last few games I watched on video, no one could move the ball on them. So, we knew we had to stop them defensively, but we didn't. We hoped to stretch things out and keep it close, but couldn't do it," Coach Jahna said.
Faced with a fourth down on the CE side of the 50, the Lakers went for it, but were stopped for a yard loss.
With Glanville and Weare each ripping off 14 yard gains, the Capers scored first on a 23-yard scamper by Glanville off right tackle. Cape faked the extra point kick with holder Hartel flicking a pass to a wide-open Zach Stewart.
The Lakers fumbled on the first play of the next possession, and Cape quickly cashed in on three plays (overcoming a holding penalty) as Glanville again went off right tackle for a 19-yard TD run.
After a LR punt, Cape went up 22-0 as Hartel zipped a 38-yard pass to Ethan Convey with 17.2 seconds left in the opening quarter.
Despite the quick strikes, the Lakers refused to hang their heads. At the LR-39, quarterback Derek Mondville tossed a deep ball down the middle, caught by tight end True Meyers in full stride. A Cape defender tried to trip the fleet-footed Meyers, but got nothing but air as he scooted 61-yards for a touchdown with 2.9 ticks left on the clock. Paul Walker added the extra point.
"We joke with True that his reception-to-touchdown ratio is pretty high. If he catches one, we have a good shot of scoring," Coach Jahna said.
Other than fumbling on the game's first punt return, Cape scored on six straight possessions. CE answered the Laker score going 73 yards in 11 plays with Weare bulling ahead for a 5-yard TD. Weare accounted for 43 yards.
A 33-yard punt put Cape back in business at the LR-49 with 5 minutes left in the half. A 15-yard personal foul penalty against the Lakers, along with three runs, set up a 6-yard TD pass from Hartel to Jacob Brydson pushed the count to 36-7 (Alex Morin) booted the extra point.
Cape wasn't done. After another LR 3-and-out (the Lakers recorded just one first down in the half), Cape went to the air once more as Hartel lofted a jump ball toss hauled in by Brydson for 31 yards, and then connected with Glanville for a 20-yard TD strike with 55.7 seconds left. The extra point made it 43-7.
With their starters on the field to start the third quarter, Cape took the opening kick 56 yards in eight rushing plays with Jack Tower carrying for 19 yards and 1 yard for the score. Morin booted the extra point, 50-7 with 5:56 left in the third quarter.
Since the scoring margin was 35 points at the half, the game switch to "running time" for the remainder of the contest.
LR turned the ball over when Mondville's pass intended for Hunter McDaniel was under-thrown and picked off by CE's Zach Stewart.
Cape's scoring streak was snapped when CE was whistled for a holding penalty and Mondville held Brydson for a nine-yard gain on third down, forcing a punt.
The Lakers took all but two minutes off the clock in the final quarter, driving from their own 19 to the CE-36. The drive stalled when three straight passes fell incomplete. Cape ran out the clock, but not before Coach Jahna signaled for a timeout with 2:08 to bring in subs and give his seniors their moment of final recognition.
One-by-one, they walked toward their coach, exchanged a hug and smile and left the gridiron with class and character.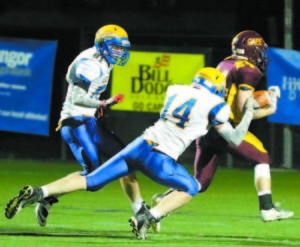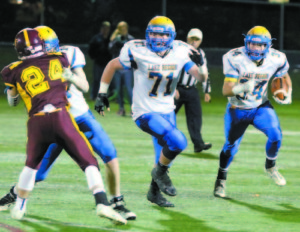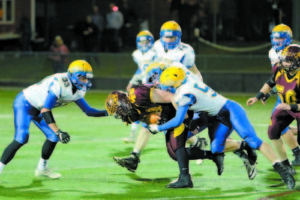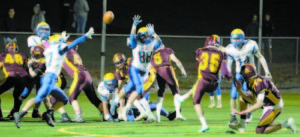 Please follow and like us: