Busy Bridgton town office could push Adult Ed out the door; selectmen notes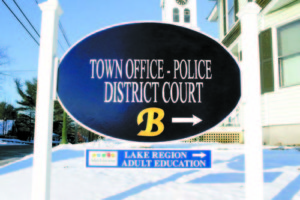 By Wayne E. Rivet
Staff Writer
Madelyn Litz knows the key to putting adults back on the education path to help them achieve a better career or job is providing local access to programming and testing.
Litz sees the lower level of the Bridgton Municipal Complex as the perfect satellite location for adult ed services.
Bridgton officials, however, might feel otherwise.
With the Memorandum of Understanding and Use of Facilities Agreement between Adult Ed and the town set to expire at the end of this month, opening discussions about renewal Tuesday night raised questions whether it might be time for Litz to seek out a new location.
In a written report to selectmen, Deputy Town Manager Georgiann Fleck cited scheduling conflicts, which has forced town business and training sessions to be moved elsewhere, and an "ineffective and inefficient use of two rooms" as reasons to not renew the lease and suggest SAD 61 find a "more suitable, alternative site."
Since the town utilizes school sports fields and facilities, SAD 61 reached out to the town about creating a satellite location for Adult Ed, targeting the lower conference room and adjacent meeting room at the municipal complex.
No fee is charged SAD 61 for use of the space, which is used every Wednesday from 8 a.m. to 8 p.m. Services include official testing for the HiSET exam (high school equivalency diploma), academic remediation, college placement testing and college transitions/career advising workshops and activities.
When selectmen asked Litz, who is the director of Lake Region and Fryeburg Area Adult Ed, whether the services could be held at Stevens Brook Elementary, possibly space at the old Bridgton Hospital or the Bridgton Public Library, Litz said many adults who struggled or left school for a host of reasons shy away from returning to local school facilities, which is why Adult Ed looks to develop satellites outside of traditional educational institutions. She did approach the library early on, but learned for one that it is a private, not town-owned entity, and received a cool reception.
Since Bridgton is the "hub" of the Lake Region, the town office complex spot has worked well, Litz said.
In her report, Fleck noted that communication has been poor between the town and Adult Ed, pointing out that when SAD 61 is not using the rooms, town officials were not notified, thus training sessions or staff meetings that could have been scheduled in that space, were not.
"Over this year, municipal meetings have had to be rescheduled and/or arrangements made to meet off site," Fleck wrote. "Since the lease agreement became effective, I began monitoring the use of the room by SAD 61. There are days when the rooms are not used at all or only for a few hours. The space has been used by as little as two to as many as six with an instructor sitting in the large room while a student is in the small meeting room or an instructor sitting at the large conference table with two or three students."
Litz said it is not unusual for numbers to be small, it's the nature of Adult Ed programming, at times. She agreed communication is an area that needs improvement (she thanked Fleck for being straightforward in her remarks), and hopes the two groups can continue to work together to bring educational opportunities to Bridgton residents.
"Our present location is both close and convenient for our students," Litz said. "We have two students who walk here and nine who get rides from relatives."
Selectmen tabled action on the proposed agreement, and asked that Litz and Fleck sit down to see if compromises can be reached. The item will be brought up for action at the Dec. 27 board meeting.
In other business,
No rot in the walls. The town received some good news regarding the old Town Hall on North High Street — tests showed no wood rot, especially in the wall facing the monument (south side), a point of real concern.
"It was concluded (by hired contractors) that 'further investigative work (and cost) to be not efficient at this time.' These results echo those reported by Casco Bay Engineering in their 2015 report," Town Manager Robert Peabody wrote in his manager's report.
M&S Builders of Maine, Inc. of Lovell worked along with Bridgton's clerk of the works, Jeff Frey. Two inspection holes were created.
"Only significant discovery was a lack of exterior wall insulation in the top (plus/minus) 3½ feet of the exterior wall," M&S Builders (Eric Wissmann, president) wrote. "It is my recommendation that additional blown in cellulose insulation be installed from the outside of the building — all around — as needed."
A bid request will be drafted to remove the existing vinyl siding, fill "voids" with insulation and install clapboards.
Energy savings pitch. Rick Meinking made a trip back home looking to help small businesses here save money.
A 1978 Lake Region grad, Meinking is now business program manager for Efficiency Maine, and made a brief presentation to selectmen regarding a new initiative — the Route 302 corridor from Fryeburg to Raymond — to help small businesses save money through the installation of LED lighting.
The "win-win" proposition has small businesses, such as Maine Street Graphics, realize savings through greater energy efficiencies while using local contractors to do the work.
Meinking also noted that Efficiency Maine has several programs such as heating system upgrades (oil, propane and heat pumps) to aid homeowners, as well. Based at the old naval facility in Brunswick, Efficiency Maine can be reached via its website or toll free 1-866-376-2463.
Deputy Town Manager Georgiann Fleck noted that also on the night's agenda were bid results to convert existing T8 fluorescent lights at the municipal complex to LED lights.
Working with the Efficiency Maine rebate program, the town selected the $17,500 bid of Rockingham Electric and DM Electric. With a rebate of $9,340, the actual project cost to the town is $8,160.
The other bid was submitted by Gilman Electric and McIver Electric at $19,306.64.
Selectmen had to approve the bid because town policy limits the town manager to withdraw $10,000 or less from reserve accounts. The rebate will return to the Municipal Buildings Reserve account.
Just under the wire. With a list of 12 foreclosed properties ready to hit the selectmen's desk for public sale, Scott Harmon was able to redeem a ranch-style property on Hidden Hollow Lane just under the wire.
Selectmen accepted a quit claim deed for Harmon after he paid over $8,000 in back taxes.
Town Manager Peabody asked selectmen how they wished to dispose of the other foreclosed properties — either by auction, sealed bid or sell through a realtor. Selectmen felt the sealed bid (with a minimum bid set) process has worked well and decided to use this method.
When properties involved homes, Selectman Bob McHatton encouraged the town to take every step possible to be sure the owner knows foreclosure is coming and try to work with the owner to find a way to get back taxes paid.
"The town is not in the business of owning real estate," McHatton said. Noting his own personal experience in terms of poverty and foreclosure, McHatton says people often don't realize the reality and finality of foreclosure until it arrives. Of the 11 properties set to be taken by the town and sold, one appears to be an active residence (a packet prepared by the town manager included pictures of each property, and one had a car parked near the foreclosed upon home), which prompted McHatton to urge the town manager to again reach out to the owner/occupant regarding the present situation.
Properties include:
3 School Street, land/building, $56,556 (total), $3,448.24 owed
179 North Bridgton Road, land/building (camp gone), $28,130 total, $1,384.85 owed
Two land properties on Quarterhorse Road, $32,700 and $33,288 total, $1,752.81 and $1,786.85 owed
Sunnybrook Farm Road, land, $34,464 total, $2,166.53 owed
394 Burnham Road, land, $36,792 total, $1.384.95 owed
492 South High Street, land/building (habited), $100,207 total, $4,821.67 owed
North High Street, land, $25,054 total, $1,479.57 owed
14 Old County Road, land/building, $88,364 total, $6,299.56 owed
Sweden Road, land, $36,636, $1,618.77 owed
Main Street, land, $9,940 total, $701.43 owed
Portland Road, land, $6,908 total, $543.82 owed.
No action on permit. While Code Enforcement Officer Robbie Baker found no oil or gas on the ground, but did find the company had no valid state tax ID number, he supported approval of Paul Gallinari's request for an automobile graveyard, automobile recycling business and/or junkyard permit for Power House Salvage Sales at 11 Power House Road.
Baker recently inspected the site. Selectmen had previously tabled action on the permit request until Baker could check the property. While the company had a state ID number, it wasn't current since the business had been stuck in probate court for three to four years.
Baker didn't see a need to hold up the permit while Gallinari sought a valid ID number.
Selectmen, however, felt differently. A motion was made to approve the permit, but no second followed, thus the motion failed.
Wiser resigns. "With regret," selectmen accepted the resignation of Marita Wiser as an alternate member of the Pondicherry Park Committee.
"While I am still very interested in the park, my work schedule has precluded me from attending many meetings. I feel it would be best to have members who have the time to fully participate," Wiser wrote in her letter of resignation.
Town report dedication. This year's town report will be dedicated to the Bridgton Lions' Club, which recently celebrated its 90th anniversary.
New bill look. The town has redesigned its sewer bills. The bill now includes the equivalent user fee and reserve fee, as well as the equivalent user number attached to the property.
While the fee is an annual fee, it will be billed on a quarterly basis. There will be three routes:
Route 1 — Meter read Jan., April, July, Oct.; bill date Feb., May, Aug., Nov.
Route 2 — Meter read Feb., May, Aug., Nov.; bill date March, June, Sept., Dec.
Route 3 — Meter read March, June, Sept., Dec.; bill date April, July, Oct., Jan.
Holiday closings. The town office will be closed Dec. 21 from 11:30 a.m. to 1:30 p.m. for the annual staff holiday gathering.
The transfer station will be closed Dec. 25 and the town office will be closed Dec. 26.
Next board meeting. The next selectmen's meeting is Dec. 27.
Please follow and like us: