Busy ballot for Bridgton voters
By Gail Geraghty
Staff Writer
Bridgton voters will settle the debate over how high a priority should be placed on Town Hall repairs when they go to the polls next Tuesday, June 10. They will also decide whether:
• to enact new requirements for fire protection for subdivisions;
• to impose more exacting standards for signs put up both by businesses and nonprofits;
• to be the first town in Maine to approve a Local Preference Housing Ordinance;
• to increase the distance that cell phone towers must maintain from residences;
• to revise existing ordinances for both the Bear River and Willis Brook aquifers, site plan, subdivision, shoreland zoning and alarms;
• to elect local candidates for Selectmen, Planning Board, SAD 61 Board of Directors and Bridgton Water District.
Polling will take place by secret ballot from 8 a.m. to 8 p.m. in Town Hall.
Emotions have run high on both sides of the Town Hall question, judging by the high number of letters submitted to the News. Those who feel strongly about the issue will likely want to attend the Town Meeting the next evening, at 7 p.m. Wednesday, June 11 at Town Hall.
That's because even if Question 9 is defeated at the polls, motions can still be made from the floor of Town Meeting to derail the funding package selectmen have crafted to pay for up to $325,000 in Phase 1 stabilization work on the building. Town Manager Mitch Berkowitz said Monday that legal questions may arise, depending on how the voting plays out.
The budget to pay for the work includes a $50,000 appropriation in Capital Improvement Program funding and $103,030 in Community Development Block Grant prior year funds. Conceivably, the $50,000 could be reduced to zero, he said, and the CDBG funds could be redirected to pay for Depot Street improvements.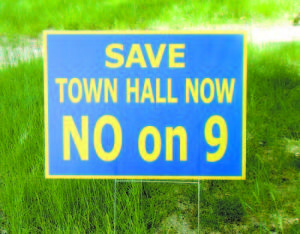 Voters could also reject articles related to using around $50,000 a year for five years from the Moose Pond Trust Fund to pay down the debt on $250,000 in borrowing.
"If, in fact, Question 9 is rejected (on Tuesday), then the battleground will be at Town Meeting (on Wednesday), Berkowitz said.
Although most of the buzz leading up to next week's voting has centered on Town Hall, several issues coming before voters have seen their share of controversy as well. The new Fire Protection Ordinance for subdivisions comes after several years of debating and committee work, and is seen as a compromise that will, for the first time, give specificity to what standards developers must meet to satisfy the town's requirement for "adequate fire protection."
A combination of fire ponds, cisterns or sprinklers are allowed to satisfy the requirement when a subdivision is more than 1,000 feet from an approved hydrant. Initially, committee members had wanted mandatory sprinkler systems to serve as the standard, but they backed away from it after developers said it would be too expensive.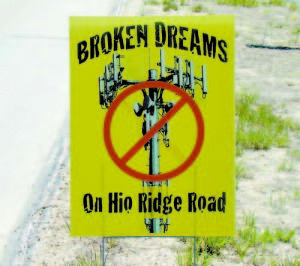 The Local Preference Ordinance proposal arose out of concern over the Avesta Housing, Inc., plans to build subsidized housing on a prime Main Street parcel. A minority of selectmen favored dropping the issue after Avesta decided not to go forward with the project, but it was decided to pursue the Local Preference Ordinance anyway to ensure that Bridgton residents would be favored in any future subdivided housing projects.
The proposed changes to the town's Sign Ordinance have caused some concern by nonprofit organizations wanting to continue the tradition of putting up signs in public ways to advertise charitable events. The impetus for the changes arose from Planning Board members concern over the use of signs by businesses, however.
Voters at Town Meeting will act on a net operating budget for municipal services of $6,465,240, of which $4,365,000 will be raised by taxpayers. If voters pass the budget intact, the Bridgton tax rate will increase by around 70 cents per $1,000 of valuation.
Please follow and like us: