Bruno A. Leino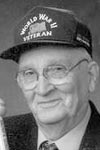 PORTLAND — Bruno Albert Leino, 89, passed away on Oct. 5, 2011, surrounded by his family following a short illness.
He was born Aug. 30, 1922, in Harrison, the second child of John and Hilda Leino. He was educated at the Brackett School in Harrison. After leaving the military in 1945, Bruno and his brother, Lauri, purchased and managed a woodlot/tree farm. Bruno continued operating this logging business after Lauri's death and until his own retirement in 1984.
Bruno was a former Boy Scout leader, Sunday School teacher, and past president of the Harrison Lutheran Cemetery Association. He was a member of the Harrison Lutheran Church and attended Bolsters Mills United Methodist Church until his death.
Bruno was one of five brothers who proudly served in World War II. Bruno entered the military on Dec. 18, 1942, and completed his basic training in South Carolina. He was assigned into combat intelligence training and served overseas with the 34th Infantry Division starting in late June 1943. Serving in North Africa, Bruno joined the 343rd Engineer group, responsible for demolition and building bridges. He spent 28 months in the European Theatre of Operations. Bruno participated in battles and campaigns in Sicily, Italy, France, Belgium and Germany, including the Battle of the Bulge and the Invasion of Sicily.
He was honorably discharged on Oct. 22, 1945. Bruno received the European African Middle Theatre Campaign Ribbon with Bronze Service Arrowhead, Good Conduct Medal, Issued Lapel Button, Combat Badge, and various other battle ribbons. Bruno loved the outdoors and nature and was devoted to his family.
He is survived by his wife of 61 years, Ruth Morgan Leino, whom he married on June 25, 1950; his five children, Karina (Leino), Alvin Leino, Kevin Leino, Anna-Jean (Leino) and Sharon (Leino) Merrill; 13 grandchildren; three "adopted" grandchildren; five great-grandchildren; siblings Henry, Miriam, Harold, Eila, Lila Butterfield, Martha and Walter Leino.
Siblings predeceasing Bruno include Arne, Matti, Eugene, Lauri, Arthur Leino, Helmi Leino and Lempi (Leino) Heath.
Online condolences may be shared with his family at www.chandlerfunerals.com
Funeral services were held on Sunday, Oct. 9, at 2 p.m. at Bolsters Mills United Methodist Church. Interment followed at Harrison Lutheran Cemetery in Harrison. Visitation was held on Saturday at Chandler Funeral Homes & Cremation Service, 45 Main Street, South Paris.
In lieu of flowers, donations may be sent in care of the Bolsters Mills United Methodist Church, to the Camp Mechuwana Scholarship Fund, or The Papa's Boots Fund in Bruno's memory.
Please follow and like us: