Brrrrrrrr! December's cold 'one for record books,' PW Director Kidder says
By Gail Geraghty
Staff Writer
Bridgton's Public Works crew is down by half of its heavy-duty snowplow fleet as it tries to keep up with the worst that winter can offer.
The department was already down one truck and awaiting delivery of its replacement, when a second truck broke down Dec. 30 in South Bridgton during a snowstorm. Since then, temperatures have dipped to the coldest on record for the past three years.
Public Works Director Jim Kidder said Monday he has no idea when the second truck will be fixed. The cooler part that is needed is on back order.
"He (the driver) managed to drive (the second truck) back to the garage, but it had to be towed to Whited in Auburn," Kidder said. He is not sure when he can expect delivery of the replacement truck, a new $120,000 wheeler. "I'm hoping by the end of the month," he said.
For now, he said he has six employees trying to do eight snowplow routes. That means long hours, with most of the men working 50- to 60-hour weeks the last couple of weeks. If plowing of some outer roads was a bit slow during the most recent storm, the truck shortage was the reason why, said Kidder, who issued a press release after the Dec. 30 storm on the town's website.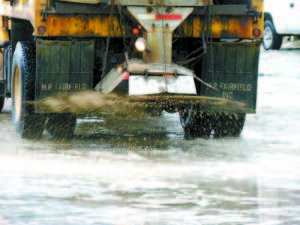 "This December has been one for the record books, with close to zero temperatures and (a number of days) of freezing rain and snowstorms," Kidder wrote. "While we will continue to work to make our streets and roads safe, we ask for your patience, since it may take us a little longer to get to your neighborhood."
The recent icy roads have also been a headache, said Kidder. "I'm going through a lot of sand." The town's sand shed holds 7,000 yards. Kidder said he doesn't like to use salt unless he has to, because it tends to be harder on the machinery in the truck's rear spreader.
All 12 of the department's employees participate in one way or another each winter in keeping Bridgton's roads, sidewalks and municipal lots well-sanded and free of snow. In keeping with standard practice, the crew must rest a day after clearing the roads before beginning snow removal.
Kidder said the public works crew has been busier than last year, but not the busiest he's seen it.
"Not so far, anyway."
Please follow and like us: