Brother Fleckers: Work ethic, food service expertise
By Dawn De Busk
Staff Writer
NAPLES — When the Fleck brothers were just youngsters, they shoveled snow and did other labor for their grandfather, Jim Build, a well-known figure in Naples.
Each of the three brothers began their employment at area restaurants as soon as they were old enough, typically around age 14. In the case of the youngest son, he was 13 and working for his older sibling who leased and ran Rick's Pizza one summer.
All three boys — Dustin, Jake and Sam Fleck — established a hard-work ethic early in life and have continued to apply it to their daily living. They said they contribute that learned behavior to their grandfather and their parents, Mike and Sue Fleck.
The Fleck brothers have had their hands in restaurants with some history and/or a good reputation in this waterfront town: Sydney's Restaurant, Rick's Pizza, The Galley and Merced's on Brandy Pond.
This year, life's circumstances circled back around when the family decided to accept the opportunity to operate the restaurant owned by Jim Build, Sue's dad. As residents might recall, the structure formerly known as Sandy's Flight Deck Restaurant had been vacant for more than a year.
According to Sue, the building had been in her family for six generations.
"Our boys will be the seventh generation to own the building," she said.
Their dad Mike said, "I am happy to see the boys back into it, enjoying it."
Brother Flecker's opened in late July — under the gun to get state permitting done prior to the Maine government shutdown.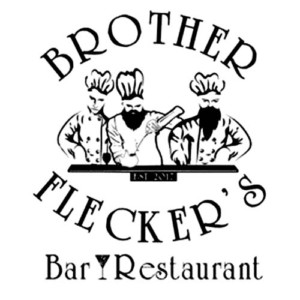 "It was the craziest time to go into business. We went from hammering and taping one day to cleaning and prepping and serving food the next," Sue said.
The eating establishment employs between 18 and 22 people. Meanwhile, Sue and Mike have been working two jobs. Mike has continued to work as the assistant store manager and the meat department manager at the Umbrella Factory Supermarket. Sue has maintained a busy schedule as a realtor with the Keller Williams Realty Manchester Team while putting in time at the family-owned restaurant.
As everyone knows — the businesses on the Causeway have a short-lived tourist season and typically shut down shop in the autumn.
After a fantastic season that started with the late summer tourists and will end with leaf peepers, the restaurant will be closing for the season on Sunday.
For those local residents wondering where to get their fill of Brother Flecker's Buffalo chicken rangoons or Irish nachos, don't worry — Brother Flecker's will re-open in the springtime.
But, there's still time to sit down and sample the menu.
Brother Flecker's hours this final week will be: Thursday, 11 a.m. to 9 p.m.; Friday and Saturday, 8 a.m. to close; and Sunday, 8 a.m. to 4 p.m.
The restaurant will be open on Halloween evening for trick or treaters, too.
That is just one way to say thank you to the community that helped support their new restaurant located in a familiar spot on the Causeway.
The family had huge thank you's to the contractors, the Naples Code Enforcement Officer, the employees at state permitting offices, the Naples selectmen who stopped in to see how the pre-opening preparations were going, and the local restaurant owners who helped with the startup.
According to Mike, "They were all really excited about seeing the business open again."
Sue said, "Naples CEO Renee (Carter) was really great. She walked us through the process, helped us understand what needed to be done, and worked with us on communicating with the state. She was very cooperative. A number of the selectmen stopped by, interested in what was going on and happy with the changes being made."
"This is a nice, homegrown type of business," she said. "All the folks that own restaurants were more than willing to help with information and advice. When we ran short on something, they were happy to help us."
For example, Brother Flecker's ran out of register tape and straws, and Freedom Café came to the rescue with extras, Sue said.
Employees at state permitting agencies turned the red tape bureaucracy into rolling out the red carpet.
"Worst case scenario, the state shutdown could have been two weeks or a month. It was very tense. They were able to come in and give us provisional licenses," she said.
Additionally, all the contractors from carpenters to electricians were on hold, making sure they were available when needed, Mike said. The family hired locally because they believe in supporting their community, Sue said.
The foundation for Brother Flecker's success is a love of food service plus years of solid knowledge of food and beverage service. There are dozens of years between the three brothers who proudly wear the Brother Flecker's T-shirts.
"Dustin came up with the Buffalo chicken rangoons — those are his special creation," Sue said. "And Jake created the Jakeoli."
Like his brothers, Jake loves working in the food industry.
"I like everything from cooking to bartending, from washing dishes to making orders. Going to auctions to buy equipment — that is fun," Jake said.
"We will be ready to come back next spring, do it earlier, and knock it out of the park," he said.
Please follow and like us: