Bridgton Hospital opens new Emergency Department waiting area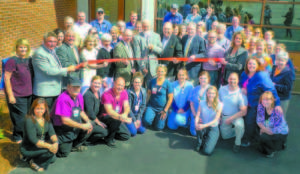 By Wayne E. Rivet
Staff Writer
A trip to the emergency room is never a welcomed moment, but Bridgton Hospital is hopeful recent renovations to the waiting room will make one's experience a little more comforting.
The newly-designed and expanded waiting room area is officially open, and is certainly a welcomed improvement. Hospital and staff celebrated the project's completion with a ribbon-cutting ceremony two weeks ago.
The hospital (built in 2002) was designed after a series of hospitals built out West by Intermountain Healthcare to be able to consolidate spaces to make them more functional for the overlap of departments.
"So in turn, at the time, it was the right size, what we needed. But, because of additional volumes, we outgrew the Emergency Room waiting room pretty quick," Bridgton Hospital Vice President John Ludwig said.
"When they did the design, the space allocation was very much focused on the 'real' patient areas. Office space wasn't the priority. These other ancillary areas weren't considered the priority," BH Director of Nursing Jill Rollins added.
The original waiting room space underwent a minor renovation in 2006. A bathroom was moved to a different corner creating a better sight line to patients waiting for services and to create more seating space.
Ten years later, hospital administration received a letter from a wheelchair-bound patient who felt the waiting room lacked adequate space.
"She told us that the current configuration of the Emergency Room waiting room forced her to sit in the middle of the space, and she felt as if she was on display," Ludwig said. "It was very unnerving. What you want is for the hospital to be comforting at a time when a person is scared and hurting."
"Someone used the analogy — and it was so true — that the room was like a subway station. The new space is amazing. When you see it from the outside, it looks small. But when you walk through the doors, it is night and day what it was before," Rollins said. "It's so much more aesthetically pleasing and comfortable for the patients and their families."
Work was also done to the hospital's exterior, again to create a more comforting look, rather than an entrance that was like a "loading dock," Rollins pointed out. "We didn't realize it until the architect put a picture in front of us."
The addition is 473 square feet, so the overall renovation and increased floor space pushed the structure to 1,023 square feet. The project totaled about $400,000. It was financed by a major donation, as well as funds raised at the hospital's 25th anniversary golf tournament. Ludwig said the donor made no specific requests, only that the renovated space be "handicap-accessible and more comfortable."
Creating more space proved somewhat tricky, due to some restrictions including structural supports, and an electrical box which could not be moved. Construction started in late February, and finished on time 12 weeks later — the goal being opening by Memorial Day weekend to beat the summer rush — and on budget. Herbert Construction of Lewiston was the general contractor.
Patients and family members will immediately notice and appreciate the upgrade, including new "green space" at the entrance.
"It is noticeably more spacious and light," Ludwig said. "It's a feeling of comfort rather than a feeling of doom. There are specific spots that people in wheelchairs can back into, and have (electrical) plugs that they can plug into to charge their chairs."
The space also offers hospital staff greater visibility of patients in the waiting room. There is a children's corner that includes two wall magnetized puzzles to keep young ones occupied, as well as two wall-mounted televisions that will air regular programming and a third unit, which will televise Bridgton Hospital information. Seating capacity has increased, and chairs are certainly more comfortable.
Another improvement is expansion of the decontamination shower area, which is in a room to the right of the waiting room. This facility can either be accessed from inside the hospital or through an exterior door.
"Before, you had to come into the hospital and then into the shower. Now, if there is a natural disaster or biohazard-type issue, those folks can access the showers from the outdoors," Ludwig said.
Rollins pointed out that the old showers were moved outdoors, which was a poor situation in the winter months. Now, it's a double shower with internal and external entrances.
There are 12,000 visits to the Emergency Department annually — between 800-900 monthly in the off-season, and 1,500 during the summer months (Memorial Day to Labor Day). Now, those visits will likely be a little more comforting.
"People judge a book by its cover. At various times, we serve people from all over. When they walked into the old waiting room, you had to wonder what they thought about the hospital, whether they questioned whether they wanted their care here. It simply didn't look professional. Now, it does. It should change people's immediate impressions when they walked through the doors," Rollins said. "We want what we look like to match the outstanding, high-quality care we provide here at Bridgton Hospital."
Please follow and like us: