Bridgton Community Center burglarized; selectmen notes
By Wayne E. Rivet
Staff Writer
Bridgton is beefing up its security.
Some updates have been made at the municipal complex, and some remain in the works at the Bridgton Community Center following a break-in last week.
Thieves broke a window located in the back section of the BCC last Monday night, climbed into the facility and allegedly stole some food, according to Police Chief Richard Stillman. Later, staff realized the BCC van was also stolen.
At 9:08 a.m., Warren's Florist also reported a past break. Officer "Mac" McCormick responded to both breaks to process the scenes and interview witnesses.
"When the van was reported stolen and entered into the state computer system, we immediately got a hit from Oxford County that they recovered the van at a scene in Waterford, where they had a reported burglary and another vehicle was stolen," Chief Stillman said.
Sgt. Phil Jones directed Officer Sophia Swiatek to check some addresses and Officer Swiatek located the stolen car from Waterford at 322 North Bridgton Road.
"After an initial investigation, it was determined that Isaiah Boody, 20, of Bridgton and Zachariah Dambrosia-Shaw, 28, of Windham were involved," Chief Stillman reported. "Both turned themselves in to the Bridgton Police the next morning."
Shaw was transported to Oxford County Jail and Boody was bailed later that morning. The case is still under investigation, Chief Stillman added, as there are "still outstanding issues."
BCC Executive Director Carmen Lone told selectmen Tuesday night that various security measures are being considered. Town Manager Robert Peabody asked if a new motion detector light at the rear of the facility might help, but Lone noted that the electrician had not returned to install the light.
Peabody informed selectmen that security at the municipal complex has been improved with the installation of three new doors and updating of the fire panel to digital.
In other news: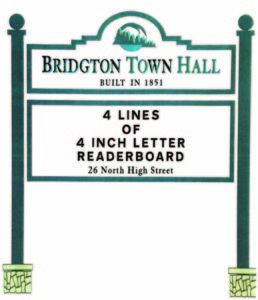 New look, but same problem? The town hall exterior sign could soon get a fresher look, but local resident and ping pong enthusiast Bill Preis questions whether it fixes the problem.
After hearing numerous concerns from neighbors regarding an electronic sign, selectmen decided to look into a more traditional sign, using hand placed lettering rather than a digital message. Selectmen saw a first concept drawing (see photo) of a non-electric sign designed by Muddy River Signs of Bridgton. The sign includes a four-line reader board, which is no higher than six feet at the tallest point from the ground, making it easily accessible for changing out lettering. The proposed cost is $2,000, not including posts, hardware or installation.
Preis, who has organized ping pong on Sundays for the past 14 years, feels an electronic sign would allow for many activities to be featured. He added that digital signs continue to evolve — "not so glaring" — enabling users to tone done the brightness of lettering.
After "considerable consideration," Board Chairman Greg Watkins said selectmen listened to neighbors and went the traditional sign route. He added that the town will look to keep its website up to date regarding activities at the Town Hall, providing a place where people can see what events are occurring there.
Giving grass a try. Natural grass is getting a second chance on Depot Street. Selectmen voted 4-0 to award Perennial Point of View a contract to reinstall grass on "green spaces" along Depot Street. The $8,200 project (with funds to come from the town's Parks cost center) calls for a two-phase approach, thus allowing the Bridgton Farmers' Market land use.
Lucia Terry outlined the plan, which calls for addressing the "A and A-1" quadrant (land near the parking lot entrance closest to the Magic Lantern). Seeding is expected to occur by mid-May. Existing soil will be removed, new loam added along with compost, and dwarf fescue grass seed mix used.
Water will come from a low-pressure attachment for a hose/sprinkler from a nearby fire hydrant. Terry asked that "everyone keep an eye on both the water and the fence" during the growing process.
Market vendors will use "green" in the B quadrant, which is close to the Bridgton Community Center, as well as land at the BCC. Once the new grass takes hold, the market will shift to the A quadrant next year, and the B section will be closed off for grass reinstall.
Passing the torch. Longtime health officer Faye Daley submitted her resignation as of May 31. State law requires selectmen to appoint a health officer.
Looking. The town is seeking candidates to fill the Community Development Director position. The position is being advertised, which was good news to Community Development Committee chairman Carmen Lone.
Quick hitters. As part of Peabody's manager's report, he gave quick updates on ongoing projects. Some highlights include: on the streetscape front, delivered initial sketch plans for Lower Main Street to key staff for review, and Milone & McBroom are developing possible intersection configurations; website development remains a "work in progress," including adding information regarding town hall activities and uses; several repair projects (town hall door, Community Center roof, Salmon Point new lots development, and shingling of the gazebo's roof) are on hold, awaiting the arrival of better weather.
Papers filed. Nomination papers for municipal offices are due at the municipal complex by Friday, April 13. Thus far, the following individuals have returned papers:
Selectman (3-year term): Liston Eastman and Robert McHatton Sr.
Planning Board, regular member (3-year term: Deanna Miller
Planning Board, regular member (2-year term): Charles K. Gibbs.
Making a pitch. In an attempt to recruit and retain firefighters, Deputy Fire Chief Eric Field is taking the membership drive to the big screen. Last Saturday, the recruiting pitch was viewed at a screening at the Magic Lantern Theater. It will now be seen before each featured film.
"We thank the Magic Lantern and Chris Madura for their assistance and the donated screen time," Deputy Town Manager Georgiann Fleck reported.
David Dowd, Fleck noted, is the BFD's newest recruit. Dowd has over 18 years of fire and emergency medical experience. BFD continues to accept applications. To become a member, contact Chief Fay at 647-8814.
Training session. The Bridgton/Fryeburg Knights of Columbus Council will sponsor a training session by United Ambulance personnel on CPR procedures and use of AED equipment, as well as a brief program on drug overdose awareness and Narcan administration.
The session will be held at the St. Joseph Church parish hall (South High Street) on Saturday, April 14 from 8 to 11 a.m. Registration can be done at the door. There is a $2 voluntary donation.
License approvals. Special amusement permits were approved for Big Dog Sports & Grill (North High Street) and A la Mexicana II (Portland Road).
A new liquor license was also granted for A la Mexicana.
Upcoming meetings: Selectmen will hold a budget workshop meeting tonight, Thursday, March 29, 4 p.m., upstairs meeting room; meeting with the Bridgton Water District on April 3, 5 p.m.; regular meetings of the Bridgton Board of Selectmen April 10 and April 24, 5 p.m.
Please follow and like us: