Briana N. Whitehead
LOVELL — Briana N. Whitehead, age 21, of Lovell, Maine and Ossipee, N.H.,  passed away on March 24,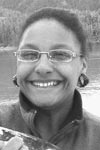 2011. She was a graduate of Fryeburg Academy in Fryeburg, Maine. She attended Job Corps in Bangor, Maine after graduation, where she earned her certified nursing assistant license, an accomplishment of which she was so proud. She loved movies, music, being with friends and family, and traveling with her beloved grandparents. She went on many, many trips and outings with her grandparents but most recently had returned from a 3-month trip to Alaska.
She had many challenges in life but until very recently, she had a joy for life, a "bubbly" personality, and a laugh and a smile that lit up the room. She leaves behind with tremendous sadness, her parents, Kristen and Michael Burke, her sister Madison, and brother Zach, all of Lovell, Maine; her grandparents, Mark and Kathleen Whitehead of Ossipee, N.H.; her uncle Kevin Whitehead and his wife Jessie of Londonderry, N.H.; her uncle Adam Whitehead  and his friend Anita of  Effingham, N.H.; cousin Betty Sherwood of Wolfeboro, N.H.; and numerous cousins.
A service will be held at noon on Friday, April 1, 2011 at Lord's Funeral Home in Wolfeboro, N.H. In lieu of flowers, donations may be made in her honor to the Activities Department; Mountain View Nursing Home, Attn: Paula Coates, 10 County Farm Rd., Ossipee, NH 03864.
Please follow and like us: