Bradley M. Benson
LEWISTON — Bradley Merle Benson, 71, of Bethel, died on Thursday, Dec. 16, at Central Maine Medical Center following a long illness.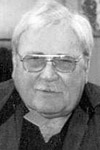 He was born on Nov. 19, 1939, in Berlin, N.H., the second child of Frank and Sylvia Benson. He grew up in Bethel and was educated in Bethel schools, graduating from Gould Academy in 1958. After completing high school, he entered the U.S. Army Reserve and was honorably discharged. In 1960, he married the former Anne Brown of Bethel, and they had a son, Andrew. In 1979, he married the former Fern Bachelder, also of Bethel, and they had a daughter, Bliss. A hard worker, Bradley devoted much of his life to building a successful timber business and he loved nothing as much as working in the woods himself. He continued work, managing the day-to-day affairs of his company, until very shortly before his death.
He is survived by his son, Andrew; a granddaughter; a daughter, Bliss of Bethel; brother, Frank Benson of Winthrop; sisters, Sylvia Murphy of Portland and Sharon Kimball of Waterford.
Online condolences may be shared with his family at www.andrewsgreenleaf.com
Funeral services were held Wednesday at Greenleaf Funeral Home, 37 Vernon Street, Bethel. Spring interment will be in Riverside Cemetery in Bethel.
Please follow and like us: