Board, residents ponder 4-way stop solution
By Dawn De Busk
Staff Writer
CASCO — It would not be the first time that the residents and town officials of Casco tried to address the dangerous intersection at Routes 11 and 121.
It has been a serious problem for decades.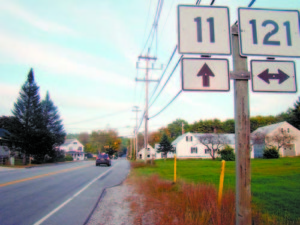 The state transportation department has offered a solution: A four-way stop to replace the yellow blinking lights.
On Tuesday night, the Casco Board of Selectmen held a public hearing to discuss this potential solution.
The half-dozen residents who testified were against the solution proposed by the Maine Department of Transportation (MDOT). The reasons cited were: confusion for drivers, more backed up traffic at the busy intersection, and increased noise from commercial trucks braking and getting back into gear. Those who spoke were against the plan. However, locals suggested more signage and possibly rumble strips to truly get drivers to slow down prior to coming to the proposed four-way stop.
Residents attested to how dangerous the intersection is.
Jay Greeley, the co-owner of Kindred Farms Bakery & Market, said speeding was a behavior that contributed to accidents and safety concerns.
"I don't have a specific solution. Nobody goes 45 mph through there," he said. "I invite anyone to come down, sit on our deck and just see for 10 minutes. Everyone is speeding or doing the rolling stop."
"We have a front row seat. It is a dangerous intersection," he said.
"When the accident with the trooper happened, we were in Westbrook. Five people called us to see if we were alright — they thought he ran his cruiser into the bakery building," Greeley said. "I don't know if they were worried about us or our product," he quipped.
Recently, MDOT representatives and road engineers met with the selectmen. This meeting gave board members some insight as to why a full traffic signal was not an option.
At this point, the actual costs have not been calculated. Those will be addressed during the board's Oct. 17 meeting.
Selectman Grant Plummer explained his take on the intersection after meeting with MDOT.
"I walked into that meeting thinking about that intersection. I drive through it several times a day since I live on the Casco-Poland line," he said. "People don't understand what is happening. 'Double yellow — what am I supposed to do?"
"Listening to the MDOT engineers, it was very insightful. It was based on science, data," Plummer said.
"The safest [solution] is a four-way stop. There isn't enough traffic for a traffic signal — the green, yellow, red lights. If you don't have enough volume of traffic, people will take advantage of" a traffic signal, he said. Drivers will say to themselves, "There is no traffic; and they will run the red light."
For the people of Casco, the four-way stop is the best option, he said. He invited residents to observe the effectiveness of the four-way stop in Standish.
"There is one in Standish at the intersection of Route 35 and Route 114. It is a well-oiled machine. People know what they are doing," Plummer said.
Resident Phil Shane, who has served on the Maine School Administrative District (MSAD) 61 Board of Directors, said he was flat out opposed to the plan.
"You would have more problems. People don't realize that you would have noise pollution and you would have air pollution. This is going to go on in the middle of the night that people will be stopping there," he said.
"Some trucks will use the Jake brake to stop," he said, adding when the tractor-trailers start moving, it will add to the noise levels.
"Contractors could stand to lose a trip a day — that is money to them," he said, listing Poland Springs and Hancock Lumber as some of the businesses that utilize Route 11 for transporting products.
"It would be pretty devastating to the trucking industry on Route 11," he said.
Later, Shane said he had hoped more contractors and businesses would have shown up to the public hearing. The town manager said the town had notified those companies that relied on Route 11 for their business.
Resident and former selectman Barbara York said she was speaking for herself and a couple other people who could not make it to the hearing.
"We are all against the four-way stop," she said. "If you can imagine the cars backed up and waiting to see who goes first until someone" flies through the stop sign, causing a pileup and injuring more people.
"I cannot imagine what the bakery is going to do. They will have cars backed up and stopped and people trying to turn because" the bakery's entrance is off Route 121, York said.
Eric Dibner, who serves on the Open Space Commission, provided his opinion.
"Whatever we do to slow traffic with signs and signals, we should do it in a good way," he said. "I realize that the stop signs are big. But, anything with flashing lights or rumble strips that makes people pay attention" would help people adjust to the four-way stop.
"Rumble strips make people pay attention," he said.
Casco Town Manager Dave Morton provided some history of the intersection.
"This has been going on for 30-plus years. This has been identified as a dangerous intersection. About 15 years ago, we had a discussion with the public. MDOT said the safest is a four-way stop," Morton said.
But MDOT will not install the stop signage until the town agrees, he said.
"We have gone full circle again. It is still a dangerous intersection. We still have bad accidents," Morton said.
"Given the number of vehicles on Route 11 and Route 121 — it doesn't warrant" a traffic signal, he said. "Some of the problem is that traffic on Route 121 zips right through the intersection although the blinking light can be seen a half-mile away."
"A four-way stop is the best opportunity to make the accidents less severe because traffic would be going slower," Morton said.
Please follow and like us: