Blaine Williams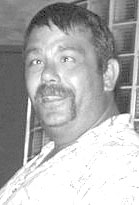 Blaine Williams, 48, of Palm Bay, Florida, and formerly of Raymond, Maine, died unexpectedly on April 8, 2012.
Blaine was born March 24, 1964, and graduated from Windham High School.He was an avid Patriots fan, and loved to fish and golf. He loved spending time with family and friends.
Blaine is survived by Laurel F. Williams, his two children, David McClure of Maine and Megan Lee Williams of California; three stepchildren, Matthew Robichaud, Andrew Robichaud, and Sara Robichaud, all of Palm Bay, Florida; and several grandchildren. He is also survived by his adoptive parents, Michael and Donna LaPointe of Casco, Maine; sister Mary Skillins and children, Dustin and Cody Skillings, brother David LaPointe, all of Palm Bay, Florida; and brother Todd LaPointe of Casco, Maine.
A private service for family will be held on Saturday, April 21, 2012, and a celebration of his life will be held in Florida on Sunday, April 29, 2012. In lieu of flowers, please make a donation in his name to the American Heart Association or the American Cancer Society.
Please follow and like us: