Beverly M. Billings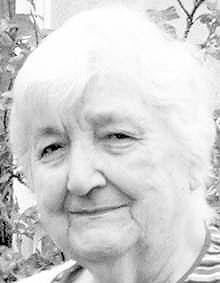 MILTON TOWNSHIP — Beverly May Fitts Billings, 79, died Saturday, May 5, 2012 at her home, surrounded by her family.
She was born in Mechanic Falls on July 10, 1932, the youngest child of Earnest and Phebe Fitts. She worked for many years at Wilner Wood Products, as well as A.L. Stewarts and Sons, both of South Paris.
On Jan. 8, 1947, she married Lloyd Arthur Billings in South Paris. Beverly and Lloyd lived in Milton Township their entire married life, raising their 15 children together there. She was a devoted daughter, sister, wife, mother, grandmother, great-grandmother, great-great grandmother and friend.
She loved being with her family, playing cards and going to yard sales. She was a member of the South Paris Baptist Church, and loved all of her church family.
She is survived by her husband, Lloyd; her children, Elaine Moore of West Townsend, Mass., Zelma Roundy of Whitehouse, Tenn., David Billings of Otisfield, Gail Trundy of Hebron, Pamela House of Bryant Pond, Bonnie Hall of Oxford, Janet Sessions of Norway, Garry Billings of Milton Township, June Jacobson of Harrison, Wanda Ridley of South Paris, Jacqueline Young of South Paris, Lloyd Billings of Milton Township, Raymond Billings of Brookline, N.H., Michael Billings of Rumford, and Allison Bellegrade of Londonderry, N.H.; 43 grandchildren; 43 great-grandchildren; three great-great grandchildren; a brother, Earnest Fitts of Poland; a sister, June Bowman of Auburn; and many nieces and nephews.
She was predeceased by her parents; brother, Linwood Fitts.
Online condolences may be shared with the family at www.chandlerfunerals.com
Visiting hours were held Tuesday, May 8, from 2 to 4 and 6 to 8 p.m. at Chandler Funeral Home and Cremation Services, Andrews Chapel, 64 Andrews Road, Bryant Pond. Funeral services were held on Wednesday, May 9, at 1 p.m. at the South Paris Baptist Church, 1 Park Street, South Paris. Services are under the direction of Chandler Funeral Home and Cremation Services.
Please follow and like us: